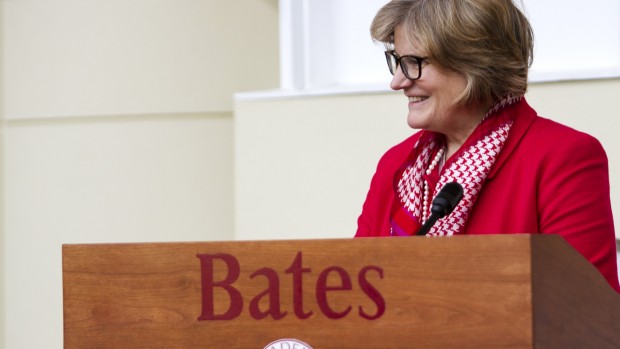 "We have ambitious goals for Bates, and I am inspired by this outpouring of support from the college community," said President Clayton Spencer.
Published on
Description

---

January 11, 2010
9:26 am

Sunday, Jan. 17 7 p.m. Worship service: A sermon by Barbara D. Savage, Geraldine R. Segal Professor of American Social…

January 7, 2010
5:49 pm

The following workshops will be held in Pettengill Hall (unless otherwise noted), Monday, Jan. 18: Session I, 1 to 2…

December 21, 2009
11:02 am

President Reynolds, who died in September, defined his Bates presidency when he climbed into that U-Haul truck.

December 21, 2009
10:49 am

Like other members of the post–World War II baby boom who went into academe, I emerged from graduate school in the mid-1970s. Here at Bates, a new generation of professors like Martin Andrucki, Mark Semon, Steve Kemper, and Carole Taylor — plus many others, boomers all — arrived in response to what was promised them: the opportunity to be vigorous scholars and great teachers.

January 8, 2008
1:38 pm

2008 Martin Luther King Jr. Day Workshops

January 8, 2008
1:32 pm

2008 Martin Luther King Jr. Day Schedule

January 8, 2008
11:52 am

The Rev. Lawrence Edward Carter Sr., Morehouse College professor of religion, is the keynote speaker for the 2008 Martin Luther King Jr. Day observances at Bates College. Classes at the college are canceled and special programming is scheduled throughout the day with an emphasis on the theme "Modernizing King: Old Roots, New Struggles."

Scheduled for 10:45 a.m. Monday, Jan. 21, in the Bates College Chapel, Carter's address is part of a celebration of King's life and work that includes performances, art exhibitions, workshops and orations. All events are open to the public free of charge. For more information, call 207-786-6400 or see a complete list of events scheduled for Martin Luther King Day.

November 1, 2007
10:59 am

Sara Lawrence-Lightfoot, a sociologist and professor of education at Harvard University, will give a presentation titled "Balm in Gilead: On Love, Justice and the Word, " at 7 p.m. Monday, Nov. 5, in the Edmund S. Muskie Archives.

November 9, 2006
3:05 pm

The Bates College Orchestra, directed by Hiroya Miura, performs a program of music from the late 19th and early 20th centuries at 8 p.m. Saturday, Nov. 11, in the Olin Arts Center Concert Hall, 75 Russell St. Admission to the concert is free, but tickets are required. For more information, please call 207-786-6135.

October 18, 2006
12:00 am

Frank Glazer, Maine's best-known pianist, marks the 70th anniversary of his New York City debut with a performance of that 1936 program at 7:30 p.m. Friday, Oct. 20, in Bates College's Olin Arts Center Concert Hall, 75 Russell St. The concert is open to the public at no cost. For more information, please call 207-786-6135.