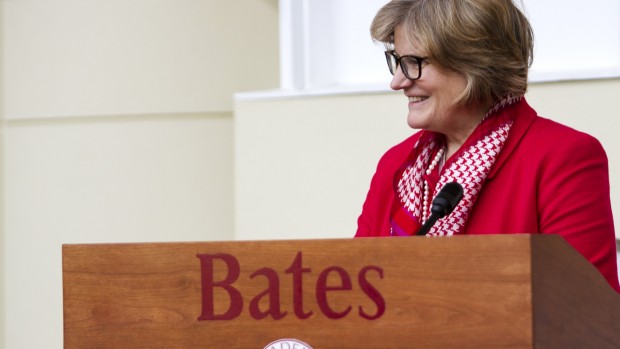 "We have ambitious goals for Bates, and I am inspired by this outpouring of support from the college community," said President Clayton Spencer.
Published on
Description

---

January 24, 1997
3:40 pm

The impact of technology on higher education will be the topic of the annual Rayborn L. Zerby Lecture at Bates College. "Will Colleges Disappear in Cyberspace? Information and Education," will be presented by Albert Borgmann at 7:30 p.m. Feb. 3, in the Edmund S. Muskie Archives, 70 Campus Ave. The public is invited to attend free of charge.

January 15, 1997
3:35 pm

Bates College will sponsor the 1997 New England Regional American College Dance Festival Friday, Jan. 17) through Sunday, Jan. 19. Certain festival performances will be open to the public at the cost of $10 for two concerts. Tickets can be purchased at the door.

January 14, 1997
3:26 pm

In commemoration of the Rev. Dr. Martin Luther King Jr.'s birthday, and in an effort to encourage literacy, more than 120 students, faculty and staff from Bates College will hold a "read-in" for youngsters in grades K-3 classrooms in Lewiston and Auburn schools on Thursday and Friday .

January 13, 1997
3:20 pm

"Mardi Gras" has been selected as the theme for the 78th annual Bates College Winter Carnival, which includes a ceremonial torch lighting by Gov. Angus King at noon Friday, Jan. 17, on the front steps of the Statehouse in Augusta followed by a relay of the Winter Carnival torch to the Bates campus by student runners.

January 9, 1997
3:08 pm

A distinguished journalist, an award-winning actress and a noted gospel group will be among the guests at Bates College Jan….

December 31, 1996
9:19 am

The Bates College Museum of Art will exhibit the work of German-born photographer Elke Morris, a member of the arts faculty, in an upper-gallery exhibit, Photographs: German Sites, from Jan. 10 through March 23. Morris will discuss her work in a lecture, followed by an opening reception, at 7 p.m. Jan. 10 in the museum, located in the Olin Arts Center. The public is invited to attend free of charge.

October 24, 1996
11:09 am

A conference on the patient-provider relationship will be held at Bates College from 8:30 a.m. through 5 p.m. Thursday, Nov. 7, in the Olin Arts Center. The conference is sponsored and accredited by Eastern Maine Medical Center.

October 23, 1996
11:07 am

A group of Bates student composers and their professor will make an informal presentation of their work on Oct. 27 at 7 p.m. in the Olin Arts Center Concert Hall. The public is invited to attend free of charge.

October 21, 1996
12:00 am

In an effort to link the academic work of Maine scholars with community interest in the Bible, the Department of Philopsohy and Religion at Bates College will host a three-day conference of biblical studies on Friday Nov. 1, Sat. Nov. 2 and Sunday Nov. 3. The public is invited to attend free of charge.

October 15, 1996
11:02 am

Four candidates for the seat of retiring U.S. Sen. William S. Cohen, R-Maine, will discuss their views in a televised debate at Bates College on Monday, Oct. 21. Any tickets remaining after distribution to students will be available starting Wednesday, Oct. 16, at the Office of Special Projects and Summer Programs, 163 Wood St.