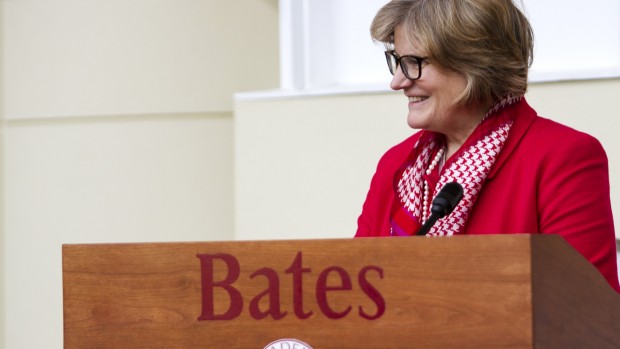 "We have ambitious goals for Bates, and I am inspired by this outpouring of support from the college community," said President Clayton Spencer.
Published on
Description

---

August 29, 1996
10:42 am

Some remarkable young people — including an inventor, artists and unusual athletes — are entering the class of 2000, college officials say. Bates begins the new academic year with some 1,694 students. That number includes 493 first-year students and eight transfers, according to dean of admissions Wylie Mitchell.

August 26, 1996
11:09 am

In celebration of the 10th anniversary of Bates College's Olin Arts Center, the Museum of Art will launch its 1996-97 season at 7 p.m. Sept. 6 with an opening reception for an upper-gallery exhibit by Bates College faculty. An exhibition of highlighted works from the museum's permanent collection along with "Modern Artists and Book Illustration" will also be on display on the lower-level gallery.

June 18, 1996
11:22 am

The Bates College Midsummer Lakeside Concert Series will present five Thursday evening musical performances on the open-air terrace overlooking Lake Andrews behind the Olin Arts Center. All concerts begin at 6 p.m. The public is invited to attend free of charge.

June 6, 1996
12:00 am

Longtime Wellesley resident Natalie Webber Gulbrandsen was one of four distinguished recipients of honorary degrees at the 130th commencement of Bates College on May 27.

June 4, 1996
11:08 am

Some 800 Bates graduates and their families will return to campus this weekend, June 7-9, for the annual Alumni Reunion festivities, which include panel discussions, seminars and arts events, as well as the popular reunion parade and luncheon on Saturday.

May 30, 1996
11:46 am

The Bates College Museum of Art will participate in the second annual Maine Museum Day on June 8 by opening its doors to the public free of charge from 10 a.m. to 5 p.m.

May 28, 1996
11:44 am

At Bates College, Lewiston, Maine: Open-air Thursday evening concert schedule at Olin Arts Center Amphitheater, Russell Street. Rain site, Olin Arts Center Concert Hall. Free. All at 6 p.m. Wheelchair-accessible.

May 27, 1996
11:41 am

Total graduates: 383 Men: 182 Women: 201 Total bachelor of arts degrees conferred: 286 Men: 133 Women: 153 Total bachelor…

May 27, 1996
11:39 am

Fifteen area residents received bachelor's degrees during Bates College's 130th commencement exercises on Monday (May 27) in an outdoor ceremony on the main quadrangle. The distinguished Nigerian novelist Chinua Achebe delivered the commencement address to an audience of some 3,000.

May 16, 1996
11:37 am

An anthropologist and musician will present a lecture/performance on West African drumming at Bates at 7:30 p.m. May 22 in the Olin Arts Center Concert Hall. The public is invited to attend free of charge.