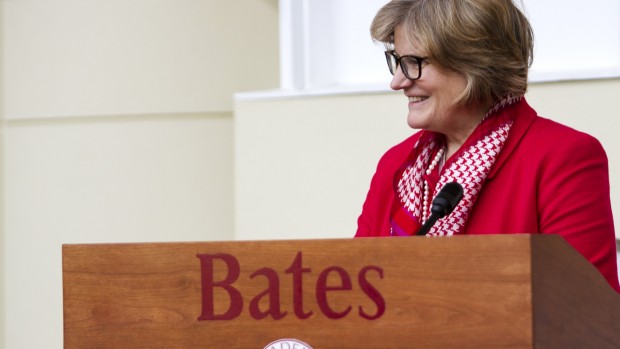 "We have ambitious goals for Bates, and I am inspired by this outpouring of support from the college community," said President Clayton Spencer.
Published on
Description

---

May 16, 1996
11:36 am

Joining Achebe as honorary-degree recipients will be one of America's most eloquent ministers, Peter J. Gomes, a Bates alumnus; human-rights activist Natalie Webber Gulbrandsen, a Bates alumna; and entomologist Edward O. Wilson. Harward will confer bachelor's degrees on approximately 390 seniors in an outdoor ceremony at 10 a.m. in front of Coram Library, following the traditional procession of seniors and faculty, which will be led by bagpipers. In case of rain, the graduation exercise will be held in the Margaret Hopkins Merrill Gymnasium.

May 15, 1996
11:34 am

Music by Rimsky-Korsakoff, Mahler, Bach and Gershwin will be on the program Sunday, May 19, when the Bates College Brass Quintet performs in a free public concert at 2 p.m. in the Olin Arts Center Concert Hall.

May 13, 1996
11:29 am

Poet Donald Justice, winner of the Pulitzer and Bollingen prizes, will read from his works at 8 p.m. Monday, May 20, in Chase Hall Lounge. The public is invited to attend at no charge.

May 9, 1996
11:28 am

The Bates Dance Festival, one of the nation's foremost dance training and presenting programs, invites local residents to participate in two programs this summer.

May 8, 1996
11:26 am

The Bates Dance Theater Short Term will present "Baile Popular," an exhibition of Spanish and Latin-American dances at 7 p.m. Friday, May 3, in Alumni Gym. Carmen and Carl Nelson will be the featured guest artists in this display of the mambo, the salsa, the merengue and more.

May 6, 1996
11:24 am

Scientist Anthony D. Cortese will discuss environmental sustainability in a lecture at Bates College on May 16 in the Chase Hall Lounge. The public is invited to attend free of charge.

May 2, 1996
11:22 am

Two groups of Edward Little High School student musicians will perform a concert at Bates at 7:30 p.m., May 13, in the Olin Arts Center Concert Hall. The public is invited to attend free of charge.

May 1, 1996
11:20 am

Mike Seeger, guardian of the traditions of old-time country music and acclaimed bluegrass banjo player, will appear in concert at 8 p.m. Thursday, May 9, in the Olin Arts Center Concert Hall.

April 22, 1996
11:32 am

The service will be conducted by the Most Rev. Joseph Gerry, Roman Catholic bishop of Maine. The eulogists will be Gov. Angus King, Bates President Donald W. Harward, former U.S. Rep. and U.S. District Judge Frank M. Coffin, businessman and longtime Muskie supporter Shepard Lee, former U.S. Sen. George J. Mitchell, Sen. William S. Cohen and Muskie's son Stephen.

April 22, 1996
11:30 am

Amateur and professional ornithologists from around the state will gather Friday and Saturday, April 26 and 27, at Bates for the annual Maine Bird Conference sponsored by the college and the Stanton Bird Club.