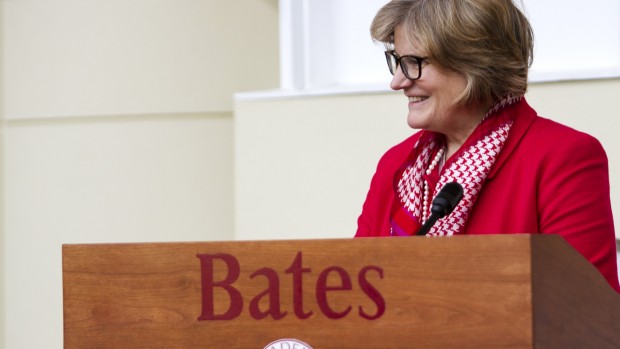 "We have ambitious goals for Bates, and I am inspired by this outpouring of support from the college community," said President Clayton Spencer.
Published on
Description

---

November 7, 2013
11:32 am

A forum on youth homelessness in Maine and a talk by a leading climate change activist take place a day apart in presentations at Bates College.

October 16, 2013
3:15 pm

Justice Albert Sachs, a key architect of South Africa's post-apartheid constitution, speaks at Bates Oct. 24.

August 23, 2013
2:03 pm

https://vimeo.com/72978484Cody Tracey '15 of Baltimore received a 2013 Harward Summer Student Fellowship to work at the Boston-based Jane Doe Inc.,…

July 25, 2013
2:45 pm

The Harward Center for Community Partnerships helps build the capacity of new and returning students, faculty and staff to enact…

June 21, 2013
12:46 pm

Bonner Leader Kim Sullivan '13 discusses her commitment to the City of Lewiston and the Tree Street Youth Center, an…

June 10, 2013
4:09 pm

The seventh annual Bates College Harward Center for Community Partnerships Awards recognized 18 individuals and organizations on May 8.

May 23, 2013
9:48 am

Ray is asked, "If you were a student, what project through the Harward Center makes you think, 'I'd be all over that'"?

May 9, 2013
1:00 pm

In the wake of recent fires in downtown Lewiston, the Bates community is organizing to respond to the needs of our neighbors.

February 21, 2013
9:29 am

Two Bates sophomores are among finalists in a letter-writing competition designed to teach college students effective advocacy.

November 12, 2012
6:49 am

Marshall Ganz, a public policy expert at Harvard, delivers the annual Andrews Lecture on Nov. 14.