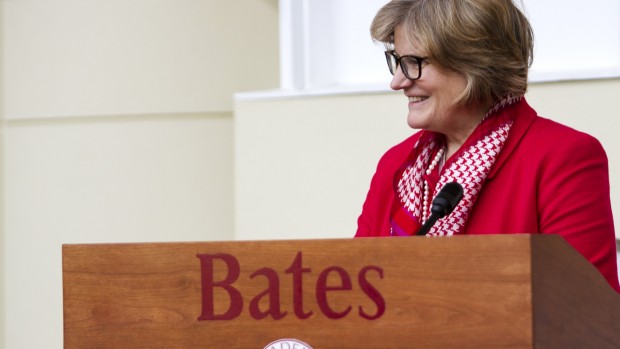 "We have ambitious goals for Bates, and I am inspired by this outpouring of support from the college community," said President Clayton Spencer.
Published on
Description

---

March 17, 2008
10:12 am

The Institute for Responsible Citizenship has selected Anthony Phillips, Bates Class of 2010, as one of 24 young men to participate in its summer leadership program in Washington, D.C. He was chosen from hundreds of applicants from universities all over the country to be part of the institute's sixth class.

March 13, 2008
4:00 am

Maine faces major decisions on the future of its North Woods. Decisions that will be made soon regarding development will have big implications for the environment and growth management in Maine and around the country.

March 1, 2008
3:26 pm

MicroVest's Gil Crawford '80 takes the lead as private investors surge into the microfinance world

March 1, 2008
3:11 pm

Friends and family raise a barn, and some community spirit, at the farmhouse wedding of Kirsten Walter '00 and Ben Ayers '99

March 1, 2008
2:13 pm

Spelman and Morehouse colleges offer something that Bates can't — and that's just the point

February 28, 2008
1:17 pm

For the second year in a row, the Corporation for National and Community Service named Bates College to the President's Higher Education Community Service Honor Roll with Distinction for exemplary service efforts and service to disadvantaged youth.

February 27, 2008
10:03 am

The Harward Center for Community Partnerships hosts the third and final installment of its Civic Forum series at 7:30 p.m., Wednesday, Feb. 27, in the Edmund S. Muskie Archives, 70 Campus Ave., with a panel titled " Reimagining the North Woods: The Changing Environment of Maine."

January 16, 2008
12:00 pm

A panel discussion presented by the Harward Center for Community Partnerships.

January 8, 2008
1:38 pm

2008 Martin Luther King Jr. Day Workshops

December 21, 2007
11:14 am

Maine's judicial branch of government has recognized Bates College for volunteer work performed in the state's courts.