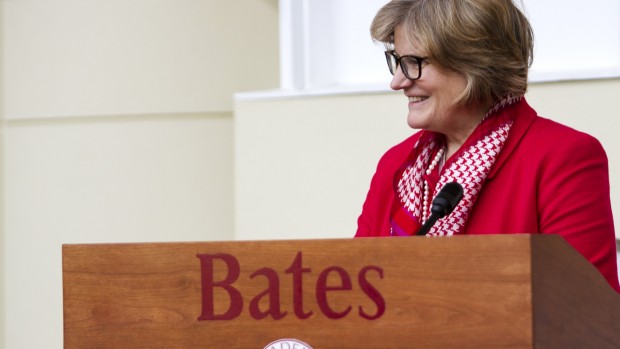 "We have ambitious goals for Bates, and I am inspired by this outpouring of support from the college community," said President Clayton Spencer.
Published on
Description

---

May 21, 2007
4:32 pm

With its centerpiece a giant painting that depicts Brooklyn after millennia of global warming, an exhibition exploring the concept of environmental sustainability opens on June 9 at the Bates College Museum of Art, 75 Russell St.

May 9, 2007
1:14 pm

Twelve individuals and organizations, recipients of the first Bates College Harward Center for Community Partnership Awards, were recently recognized in a celebration at the Edmund S. Muskie Archives.

April 10, 2007
8:44 am

Several years ago, students in Lee Abrahamsen's 300-level virology course undertook a project for a hepatitis-C support group at a…

April 2, 2007
1:07 pm

Bates College is one of 11 institutions of higher education named by the National Community-Based Research Networking Initiative to receive funding for innovative community-based research projects.

March 19, 2007
2:39 pm

Bates College's Harward Center for Community Partnerships will screen "There Ought to Be a Law" a new documentary film about a Lewiston woman who became a gun control activist after her teenager's suicide.

March 19, 2007
2:27 pm

Human rights activist William H. "Bill" Slavick will visit Bates College to give a lecture titled Neighbors, Near and Far and present the annual William Stringfellow Awards in Justice and Peace Sunday, March 25, in the Benjamin Mays Center.

March 5, 2007
3:40 pm

More than 300 Bates students will take part in the sixth Mount David Summit, the college's annual celebration of student academic achievement Friday, March 30, in the Perry Atrium of Pettengill Hall.

February 6, 2007
1:26 pm

In celebration of her appointment as Whitehouse Professor of Sociology at Bates College, Emily Kane leads a panel discussion on "Disrupting Privilege: Inequality, Community and Social Change" Wednesday, Feb. 7, in Chase Hall Lounge.

January 22, 2007
2:44 pm

The Carnegie Foundation for the Advancement of Teaching recently selected Bates College for its new Community Engagement Classification, created to recognize colleges and universities that have institutionalized community engagement in their endeavors.

January 8, 2007
12:50 pm

The schedule for the 2007 annual Martin Luther King Jr. Day Celebration extends over several days.