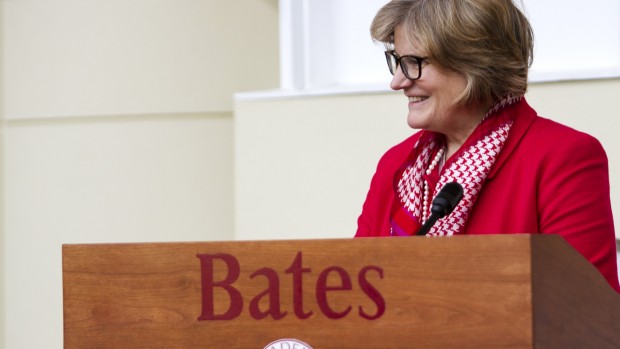 "We have ambitious goals for Bates, and I am inspired by this outpouring of support from the college community," said President Clayton Spencer.
Published on
Description

---

December 23, 2005
3:02 pm

A pioneer in the field of African American women's history and chair of the Department of African American Studies, University of Maryland, College Park, Professor Sharon Harley is the keynote speaker for the 2006 Martin Luther King Jr. Day observances at Bates College.

December 13, 2005
2:46 pm

Members of the Bates College community have donated more than $16,000 in response to the Katrina Relief Initiative (KRI), a fund-raiser spearheaded by Bates students, faculty and staff, and supported by the Office of the Chaplain and the Harward Center for Community Partnerships.

November 21, 2005
3:16 pm

For the third consecutive year, the Brooks Quimby Debate Council hosted a Maine high school forensics tournament. Approximately 315 students took part in the all-day event on Saturday, Nov. 19. A scheduled tournament for the 2005-06 season of the Maine Forensics Association, the judged competition featured events in speech, Lincoln-Douglas and public forum debate and student congress. The MFA promotes the development of articulate leadership among secondary students throughout the state.

November 14, 2005
3:21 pm

Local high school students and staff will join Steve Wessler, director of the Maine Center for the Prevention of Hate Violence, for a discussion of the "Unity Project," a multiyear harassment prevention program built around the use of peer influence, at 7 p.m., Monday, Nov. 14, in Chase Hall Lounge, Chase Hall, 56 Campus Ave., Bates College. The public is invited to attend the event, co-sponsored by the Harward Center for Community Partnerships and the education department at Bates, free of charge. For more information, please call 207-786-8235.

October 5, 2005
3:52 pm

Ijaz Shafi Gilani, an expert on Pakistani public opinion and international relations, visits Bates College from Oct. 3 through Nov. 11. A Fulbright visiting specialist with the "Direct Access to the Muslim World" program, Gilani is professor and dean of the faculty of social sciences at International Islamic University in Islamabad, Pakistan. He also heads Gallup Pakistan, an opinion and marketing research firm.

September 19, 2005
4:23 pm

For the fourth year, Bates College students are coordinating a program that matches fellow students with volunteer opportunities in the Lewiston-Auburn region.

Seniors all, the four student volunteer fellows at Bates during the 2005-06 academic year are Emily Hoffer of Danville, Vt.; Sarah Mengel of Westport, Conn.; Christopher Petrella of Somers, Conn.; and Katie Seamon of Leverett, Mass.

September 15, 2005
4:26 pm

Americans for Informed Democracy, a non-partisan student organization, hosts an event this week that will allow Bates students some virtual face time via a live video link with leaders at the United Nations' 2005 World Summit. The session takes place from 1 to 2:30 p.m. Friday, Sept. 16, in Pettengill Hall, Room G13.

August 17, 2005
10:49 am

The Peter Jay Sharp Foundation of New York City has granted $150,000 to support the Thousand Words Project, a middle-school outreach program at the Bates College Museum of Art.

July 26, 2005
9:34 am

Nathaniel Walton '08, president of the Bates College Republicans, was elected state chairman of the Maine College Republicans on July 16.

July 22, 2005
9:44 am

Internationally recognized authors Adam and Arlie Hochschild, who frequently summer in Maine, lead a two-hour discussion titled "Finding Our Way in Bush's America" at 7 p.m. Friday, July 29, in the Keck Classroom (G52), Pettengill Hall. The public is invited to attend at no charge.