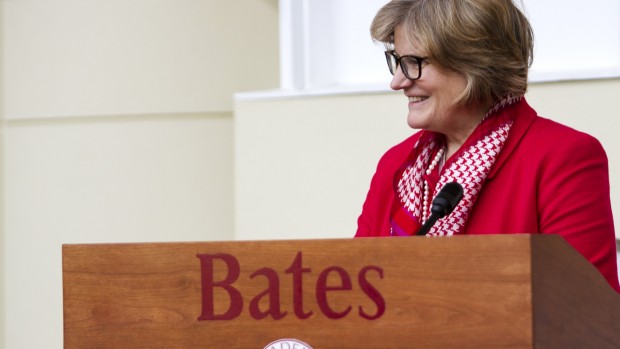 "We have ambitious goals for Bates, and I am inspired by this outpouring of support from the college community," said President Clayton Spencer.
Published on
Description

---

February 10, 1999
4:07 pm

Tammy R. Mawhinney, a Lewiston-based licensed massage therapist specializing in neuromuscular therapy and relief of chronic pain, will discuss Overcoming Fibromyalgia at 6 p.m. Feb. 24 in Room 204 of Carnegie Science. The public is invited to attend free of charge.

February 5, 1999
3:56 pm

The Maine Chamber Ensemble and the Androscoggin Chorale will perform an unstaged concert of Mozart's comic opera "Cosí fan tutte" ("They all do it!") at 8 p.m. Saturday, Feb. 20, in the Olin Arts Center Concert Hall, 75 Russell St. Advance tickets are $15 for general admission, $14 for seniors and $7.50 for students. Children under 12 will be admitted free of charge. At the door, tickets are $17.50 for general admission and seniors and $8.50 for students. Call 207-782-1403 to purchase tickets.

February 2, 1999
3:53 pm

Three members of the Bates College Office of Security and Campus Safety are teaching a program of self-defense to area 5 to 7 year olds and their parents at Smart Start Developmental Child Care Center in Auburn from 6:15 to 7:30 p.m. through Feb. 25.

January 15, 1999
10:10 am

In celebration of the Rev. Martin Luther King Jr. holiday, the Bates College Center for Service-Learning and Lewiston-Auburn College will co-sponsor a "read-in" by faculty, staff and students for grades 2-6 at 9:15 a.m. and 1:15 p.m. Wednesday, Jan. 20, at the Longley Elementary School on Birch Street in Lewiston. In case school is cancelled due to snow, the read-in will be held Wednesday, Jan. 27.

January 13, 1999
10:05 am

Bates College has awarded more than $20,000 to the Auburn Land Lab, Lewiston High School, Lewiston's McMahon and Longley elementary schools as well as Morse High School and Bath Middle School through the Bates College Science Education Outreach Grant program. The awards are sponsored by Bates and funded by major grants to the college from the Howard Hughes Medical Institute, the nation's largest private funder of research and education in science and health.

December 4, 1998
12:31 pm

The L/A Children's Chorus, under the direction of Brian Franck, will perform a concert of holiday music at Bates on Friday, Dec. 18, at 7:30 p.m. in the Olin Arts Center Concert Hall. Admission is $8 at the door. Please call 207-782-5241 for more information.

October 29, 1998
3:24 pm

Ira Harkavy, associate vice president and director for the Center for Community Partnerships at the University of Pennsylvania, will discuss "Participatory Action Research and Service Learning" at 7 p.m. Thursday, Nov. 12, in the Benjamin Mays Center.

October 19, 1998
12:50 pm

Peter H. Smith, director of Latin American studies at the University of California, San Diego, will discuss "Prospects for U.S.-Latin American Relations: Trouble Ahead?" at Bates College Thursday, Oct. 29, at 7:30 p.m. in the Edmund S. Muskie Archives. The public is invited to attend the Muskie Series lecture, and admission is free.

October 14, 1998
2:21 pm

The Bates College Center for Service-Learning has received an $89,000 grant from the National Corporation for Public Service for a partnership project with the city's Governor Longley Elementary School.

October 6, 1998
1:59 pm

Geologists are offering an unusual opportunity to explore the 420-million-year geological history so dramatically displayed in the rock outcroppings of the Great Falls here in Lewiston. Led by the Bates College geology department during Earth Science Week (Oct. 11-17), a series of field trips also will examine the significant role played by the falls in the settlement and development of the Lewiston-Auburn area.