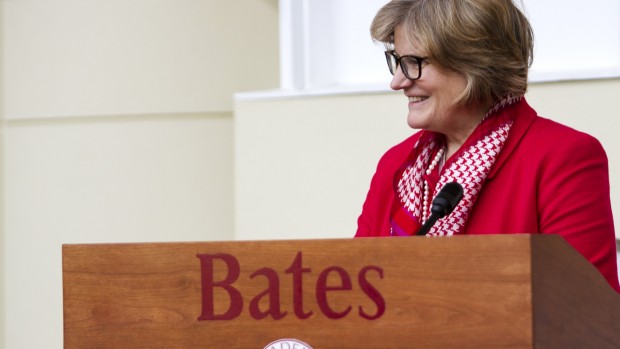 "We have ambitious goals for Bates, and I am inspired by this outpouring of support from the college community," said President Clayton Spencer.
Published on
Description

---

October 3, 1997
8:25 am

Two leading human rights activists from Belgrade will discuss the current political situation in Yugoslavia at 7:30 p.m. Oct. 9, in the Edmund S. Muskie Archives, 70 Campus Ave. As part of their week-long visit to Bates, Obrad Savic and Natasha Lazovic will also show a film, Predictions of Fire, at 7 p.m. Oct. 8, in Room 105 of the Olin Arts Center, 75 Russell St. The public is invited to attend both events free of charge.

September 23, 1997
10:53 am

Peter Edelman, a Clinton-administration appointee who recently resigned in protest over the new national welfare law, and Kevin Concannon, commissioner of the Maine Department of Human Services and a welfare-reform supporter, will discuss the implications of welfare reform on the national and state level at 7:30 p.m. Oct. 6, in Chase Lounge, 56 Campus Ave. The presentation, sponsored by the Bates Democrats student organization, is open to the public without charge.

August 28, 1997
2:49 pm

Diana L. Eck, award-winning author of Encountering God: A Spiritual Journey from Bozeman to Banaras, will deliver a lecture titled Multireligious America: New Arguments, New Opportunities, at 7:30 p.m. Sept. 11, in Chase Hall Lounge, 56 Campus Ave. The public is invited to the 1997-1998 Rayborn Lindley Zerby Lecture in Contemporary Religious Thought and admission is free.

August 21, 1997
1:26 pm

Two-hundred and thirty-six incoming students — half the class of 2001 at Bates College — will first face physical rigors, while hiking, rock climbing, canoing, backpacking or mountain biking in the Annual Entering Student Outdoor Program (AESOP) orientation. Dan Voisin, a Bates senior from Lanesboro, Mass., is overseeing the preorientation program, including transportation, food and gear procurement as well as training the 52 student-trip leaders.

July 30, 1997
10:22 am

The Bates College Dance Festival, in sponsorship with the City of Lewiston Recreation Department, is conducting a three-week "Youth Arts Program" from July 28 through Aug. 16 at the Lewiston Memorial Armory on Central Avenue. Sixty-one Lewiston children, ages six to 17, are involved with music and dance classes Mondays through Fridays from 9 a.m. to noon.

July 30, 1997
10:03 am

An outdoor dance performance featuring professional dancers and local participants of all ages will be held at a Falmouth sanctuary on Aug. 13 and Aug. 16. The Bates Dance Festival and Maine Audubon Society are co-sponsoring two performances of a newly commissioned site specific work, "A Curious Invasion," inspired by the landscape of Gilsland Farm and created by internationally renowned environmental/outdoor artists Sara Pearson/Patrik Widrig & Company.

July 8, 1997
3:43 pm

Internationally acclaimed environmental/outdoor artists Sara Pearson and Patrik Widrig will be available at 2 p.m, July 16 for a photo opportunity on the location of their newly commissioned site-specific dance performance, A Curious Invasion, inspired by Maine Audubon's Gilsland Farm Sanctuary, located on 118 U.S. Route 1 in Falmouth. The choreographers will choose from the various field and forest habitats to inspire their movement.

June 20, 1997
11:48 am

Master story teller John McDonald will offer an evening of traditional Maine humor at 7 p.m. Thursday, in Room 104 of the Olin Arts Center, 75 Russell St. Children are especially welcome, and the public is invited to attend free of charge.

June 5, 1997
11:17 am

Eight Maine students who received $2,500 scholarships from a fund created by former U.S. Sen. George J. Mitchell will attend Bates College in September 1997. More than 170 Maine students applied for 30 Mitchell Scholarships awarded on the basis of academic achievement, financial need, community spirit and public service.

June 2, 1997
10:28 am

The Bates Dance Festival invites senior citizens and teenagers from Lewiston-Auburn and surrounding communities to participate in a three-week intensive workshop, July 28 through Aug. 15, under the direction of choreographer and educator Jeff Bliss.