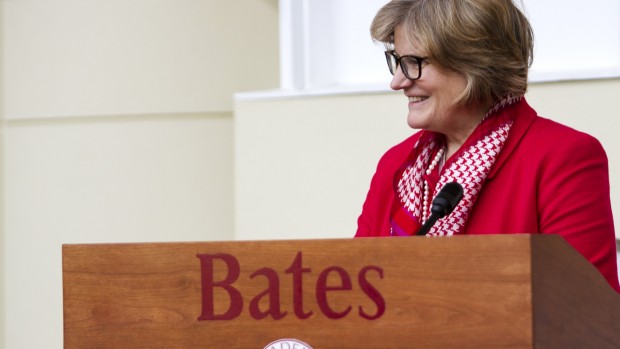 "We have ambitious goals for Bates, and I am inspired by this outpouring of support from the college community," said President Clayton Spencer.
Published on
Description

---

May 26, 1997
12:50 pm

Former president of Costa Rica Oscar Arias told 472 Bates College graduates that the future of the world lies in "the defense of humanitarian values" at Monday's outdoor commencement exercises before a crowd of 3,500.

May 26, 1997
12:41 pm

Twenty area residents received bachelor's degrees during Bates College's 131st commencement exercises on Monday (May 26) in an outdoor ceremony on the main quadrangle. Oscar Arias, the Nobel Peace Prize-winning former president of Costa Rica, delivered the commencement address to an audience of some 3,000.

May 1, 1997
11:52 am

Stanton Wortham, assistant professor of education at Bates College, has been honored with the Maine Campus Compact's Faculty Service-Learning Award. Wortham was recognized for designing several innovative service-learning projects, including a program in which Latino Bates students tutor and mentor Latino schoolchildren in S.A.D. 52 (Turner, Maine) schools.

April 18, 1997
4:05 pm

Winter's passing will be noted with a hat off to spring when the Androscoggin Valley Community Orchestra (AVCO) performs its next concertat 8 p.m. May 3, in the Olin Arts Center Concert Hall, 75 Russell St.

April 17, 1997
3:52 pm

Gov. Angus King will speak on "Leadership: Reflections at Midterm," at 4:30 p.m. April 29, in the Benjamin Mays Center.

April 1, 1997
2:49 pm

Bates College will break ground for a new $17 million academic building on Saturday at 10 a.m. at the corner of Bardwell Street and Andrews Road.

March 13, 1997
9:17 am

The Bates Dance Festival invites senior citizens and teenagers from Lewiston-Auburn and surrounding communities to participate in a three-week intensive workshop, July 28 through Aug. 15, under the direction of choreographer and educator Jeff Bliss.

January 28, 1997
3:45 pm

Representatives of the state's new female leadership will hold a panel discussion on the power of women in the Maine legislature as part of a Bates College lecture series, "Women and Public Policy in the Next Century."

January 14, 1997
3:26 pm

In commemoration of the Rev. Dr. Martin Luther King Jr.'s birthday, and in an effort to encourage literacy, more than 120 students, faculty and staff from Bates College will hold a "read-in" for youngsters in grades K-3 classrooms in Lewiston and Auburn schools on Thursday and Friday .

October 29, 1996
12:00 am

Leon Billings, an executive assistant to former Secretary of State Edmund S. Muskie '36, will speak on "Shift in the Environmental Agenda" at Bates College at 7 p.m. Nov. 4 in Room 204 of Carnegie Science Hall. The public is invited to attend free of charge.