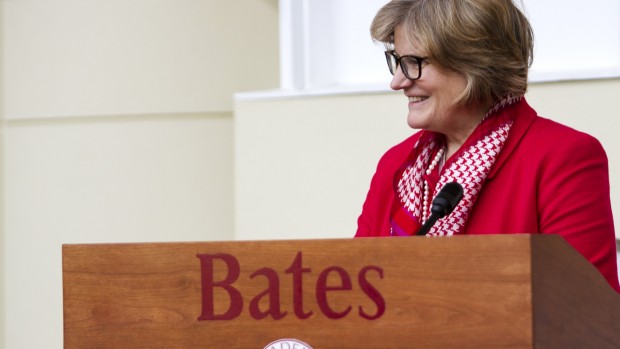 "We have ambitious goals for Bates, and I am inspired by this outpouring of support from the college community," said President Clayton Spencer.
Published on
Description

---

October 23, 2007
11:19 am

Professor Lee Rybeck Lynd '79, a pioneer in the sustainable production of ethanol fuels from abundant, inexpensive and renewable plant materials, gives two public presentations at Bates College in October.

October 23, 2007
11:10 am

Bates College presents "The Birthday Party," the first full-length play by the renowned Harold Pinter, in performances at 7:30 p.m. Friday and Saturday, Oct. 26 and 27, and 2 p.m. Sunday, Oct. 28, in Gannett Theater, Pettigrew Hall, 305 College St.

September 27, 2007
2:24 pm

Bates College announced today that it is participating with more than 600 independent U.S. colleges and universities in offering detailed information to explore schools online at www.ucan-network.org.

September 7, 2007
4:08 pm

Nineteen colleges and universities, including Bates, commit not to mention U.S. News or similar rankings in new publications, "since such lists mislead the public into thinking that the complexities of American higher education can be reduced to one number."

September 6, 2007
8:19 am

Students received the rare opportunity to compare 21st-century college life with the Versailles experiences of the French queen Marie Antoinette as Bates College opened its 153rd academic year on Sept. 5.

September 5, 2007
8:24 am

Bates College and Zipcar, the world's largest car-sharing service, have announced a partnership to make Zipcars available on campus to faculty, staff and students as an environmentally friendly alternative to the costs and hassles of keeping a car on campus.

August 30, 2007
11:11 am

Bates College opens its 153rd academic year with a convocation ceremony featuring John R. Cole, Thomas Hedley Reynolds Professor of History, at 4:10 p.m. Wednesday, Sept. 5, on the historic Quad near Campus Avenue.

August 17, 2007
8:57 am

With its first occupants scheduled to move in later in the day, the new Bates student housing was introduced to the community with speeches and tours during the morning of Aug. 17.

June 15, 2007
11:25 am

About 150 Bates faculty, staff, students, college Trustees and members of the local community attended and engaged in the presidential symposium A College for 'Coming Time': Diversity and Changing Demographics in Higher Education, convened by President Elaine Tuttle Hansen.

May 27, 2007
12:08 pm

"If you want to solve all the problems that we're facing in this world, it's unlikely that the people and ideas that got us to where we are will be the ones that are going to get us to a different place," Segway inventor Dean Kamen told 464 graduates at Bates College' 141st Commencement.