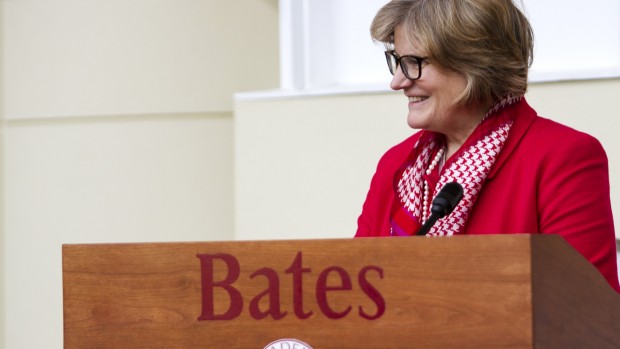 "We have ambitious goals for Bates, and I am inspired by this outpouring of support from the college community," said President Clayton Spencer.
Published on
Description

---

October 15, 2005
3:51 pm

Members of the Bates College community will hold a vigil for victims of the earthquake in Pakistan and the hurricane in Central America at 7 p.m. Monday, Oct. 17, in the Bates College Chapel, College Street. The public is invited to participate in this gathering, sponsored by the Office of the Chaplain.

September 8, 2005
4:30 pm

Speakers who addressed the Convocation audience Sept. 6 offered ample food for thought to the incoming Class of 2009, from the historical evolution of academic freedom to life lessons implicit in the Bates education.

But unity — as in unity of self and unity on campus — was a subtext for remarks by both the featured convocation speaker, the Rev. Peter J. Gomes '65, and President Elaine Tuttle Hansen. Gomes referenced a sermon on his first Sunday on campus, in 1961 during what was then called "Freshman Week," that stressed Bates' role in assembling the diverse components of character into "a life worth living." Hansen, meanwhile, called for a shared campus commitment to robust intellectual inquiry.

July 28, 2005
9:25 am

President Elaine Tuttle Hansen has announced five appointments to the Bates College Board of Trustees: Robert E. Burke of Boston, Mass.; Marjorie Northrop Friedman of Dallas, Texas; Jennifer L.Guckel of Charlestown, Mass.; Dana Petersen Moore of Baltimore, Md.; and Quoc K. Tran of Omaha, Neb.

May 17, 2005
2:39 pm

Donald "Dee" Rowe, legendary former Worcester Academy and University of Connecticut basketball coach, will deliver the keynote address at the inaugural induction ceremony of the newly created Bates College Scholar-Athlete Society at 5 p.m. Saturday, May 28, at the Mays Center on the Bates College campus. Rowe will also be inducted as the society's first honorary member.

May 17, 2005
12:50 pm

Andrew Carnegie probably never considered making a gift in honor of fellow philanthropist John D. Rockefeller. But on Monday afternoon, one champion of Bates philanthropy honored another as the College inaugurated the Helen A. Papaioanou, M.D. '49 Chair in the Biological Sciences, established as part of a multimillion gift several years ago by Ralph T. Perry '51 and his wife, Mary Louise Seldenfleur.

April 8, 2005
10:01 am

Bates College is one of the nation's best colleges fostering social responsibility and public service according to The Princeton Review and Campus Compact.

April 4, 2005
11:59 am

David M. Scobey has been named as the director of the Harward Center for Community Partnerships and as the Donald W. and Ann M. Harward Professor of Community Partnerships at Bates College, announced Vice President of Academic Affairs and Dean of Faculty Jill Reich.

November 19, 2004
12:23 pm

The college has received an award for its adoption of a policy that strengthens tobacco control efforts on campus.

November 3, 2004
1:02 pm

Hundreds of alumni, faculty, students and friends met over a harvest dinner in Merrill Gymnasium Oct. 30 to celebrate the alumni launch of The Campaign for Bates: Endowing Our Values, a comprehensive fund-raising effort to raise at least $120 million by June 30, 2006.

October 11, 2004
12:40 pm

Bates College announced the public phase of the most ambitious fund-raising effort in its history Oct. 9 – a $120 million campaign focused on endowment for greater student financial aid, academic programs and facilities improvements.