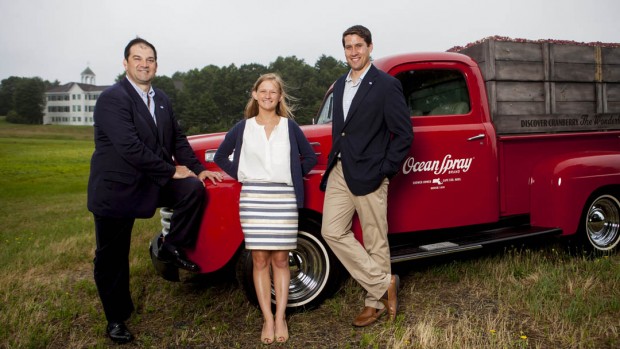 From Seattle, Wash., to New York City's Times Square, Bates students are participating in myriad off-campus experiences. The home front, of course, continues to percolate with scientific research, modern dance and extensive demolition…
Published on
Description

---

September 8, 2004
2:23 pm

It is my very great privilege to call you together today on behalf of the entire Bates community.

July 29, 2004
10:25 am

President Elaine Tuttle Hansen has announced four appointments to the Bates College Board of Trustees: Jamie P. Merisotis of Washington, D.C.; Karl-Olof Mills of San Francisco, Calif.; Mary Henderson Pressman of Kansas City, Mo.; and Valerie A. Smith of Princeton, N.J.

June 12, 2004
11:37 am

Weston L. Bonney '50, a distinguished banker, longtime college Trustee and a volunteer who has worked tirelessly in Maine and abroad to advance education, arts and commerce, received the Benjamin Elijah Mays Medal, the College's highest alumni award, at the 136th Reunion Alumni Awards Ceremony on June 12.

April 21, 2004
3:04 pm

The Bates College Seminar Series on Entrepreneurship presents David Barlow, a member of the college's class of 1979 and the head of Molecular Insight Pharmaceuticals, Inc., in a discussion of his work at 7 p.m. Monday, April 26, in Chase Hall Lounge, Campus Avenue.

April 14, 2004
11:47 am

The William Randolph Hearst Foundations have awarded Bates College a second grant of $100,000 to support scholarships that help make it possible for Maine students to attend Bates.

October 26, 2002
4:13 pm

The value of a college education in terms of increased lifetime income is well understood, but less well understood is its social and civic value, Elaine Tuttle Hansen told more than 1,400 guests Saturday during her inauguration as the seventh president of Bates College and its first woman president.

October 22, 2002
9:49 am

Bates College celebrates the presidential inauguration of Elaine Tuttle Hansen at 10:30 a.m. Saturday, Oct. 26, 2002 in the Margaret Hopkins Merrill Gymnasium. The installation ceremony and several other events and exhibitions are free and open to the public.

October 10, 2002
3:33 pm

Parker J. Palmer, named one of the 30 "most influential senior leaders" in a national survey of faculty and staff in higher education, gives a talk titled "Leading From Within: Reflections on Leadership, Community and the Inner Life" at 7:30 p.m. Monday, Oct. 21, in the Edmund S. Muskie Archives, 70 Campus Avenue. Sponsored by the office of the Dean of the College at Bates College, the talk is open to the public at no charge.

September 5, 2002
4:24 pm

On Sept. 4, former U.S. Surgeon General M. Joycelyn Elders opened the 148th academic year at Bates College with a challenge to the Class of 2006. In her second visit to Bates this year, Elders told a convocation gathering of about 1,000 students, staff and faculty that the students now starting here must summon the courage and the will to become transformational leaders for a new century fraught with pressing difficulties.

July 3, 2002
8:30 am

Elaine Tuttle Hansen, former provost and professor of English at Haverford College in Pennsylvania, assumed office July 1 as the college's seventh president since its founding in 1855.