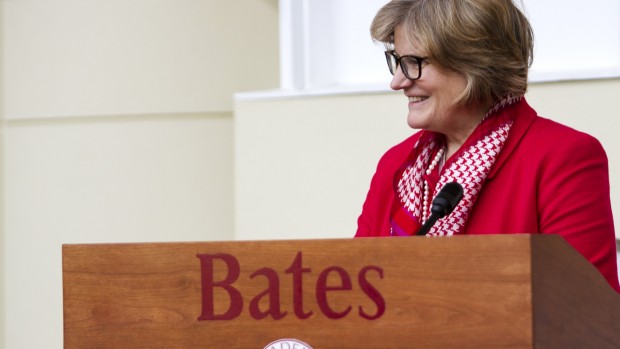 "We have ambitious goals for Bates, and I am inspired by this outpouring of support from the college community," said President Clayton Spencer.
Published on
Description

---

March 20, 2000
12:34 pm

Diana Chapman Walsh, the 12th president of Wellesley College in Wellesley, Mass., will discuss "Living Our Stories Well" at noon, Monday, April 3, in Alumni Gymnasium as part of Bates' annual Founders Day Convocation, a time when the college reflects on the principles that were at its founding and continue to sustain it. The public is invited to attend the convocation without charge.

March 8, 2000
2:23 pm

During a visit to Bates College, acclaimed Chinese author He Liyi will read from his autobiographical works at 4:10 p.m. Tuesday, March 14, in Hirasawa Lounge of Chase Hall and show a slide presentation of his native Yunnan province at 4:10 p.m. Thursday, March 16, in the Keck Classroom, G52, of Pettengill Hall. The public is invited to attend both of these events free of charge.

March 6, 2000
1:50 pm

Gary Hirshberg, president and CEO of Stoneyfield Farm Inc. of Londonderry, N.H., makers of the popular Stoneyfield Farm yogurt, will discuss "Caring for Community is a Strategy for Business Success" at 7:30 p.m. Monday, March 20, in the Edmund S. Muskie Archives, Bates College. The public is invited to attend free of charge.

February 8, 2000
2:09 pm

Educational leaders from Bates College, Manchester College in North Manchester, Ind., and the University of Texas at Arlington will discuss the changing role of higher education in a round-table format at 7:30 p.m. Monday, Feb. 14, in the Edmund S. Muskie Archives, 70 Campus Ave. The public is invited to attend the Bates College Millennial Series lecture free of charge.

January 11, 2000
3:31 pm

In an unusual cooperative effort between a private and public institution of higher education, the Bates College Center for Service Learning and the University of Southern Maine's Lewiston-Auburn College (LAC) share the services of an AmeriCorps*Volunteers In Service To America (VISTA) member.

January 1, 2000
1:57 pm

Lene Vestergaard Hau, a Danish physicist who stunned the global scientific community by slowing the speed of light in a Harvard University research laboratory, will discuss her work at 8 p.m. Thursday, Jan. 13, in Room 204, Carnegie Science, Bates College. The public is invited to attend without charge.

August 26, 1999
12:00 am

Timothy Leach of Queensbury, N.Y., a 1999 graduate of Bates College, has been named director of the new Bates Outdoor Education and Leadership Program (BOELP)

December 4, 1998
12:33 pm

Bates has received its largest gift ever from a bequest by the late Charles F. and Evelyn M. Phillips. Phillips was the fourth president of Bates having served from 1944-66.

June 30, 1998
12:57 pm

Attorney Ann E. Bushmiller of Washington, D.C., cardiologist Colin M. Fuller of Verdi, Nev., author and businesswoman Linda Gramatky Smith of Westport, Conn., and businessman Bruce E. Stangle of Cambridge, Mass., have been appointed to serve on the bicameral board of trustees at Bates College, announced President Donald W. Harward.

February 17, 1998
3:29 pm

Author and scholar Henry Louis Gates Jr. and New York City businessman James G. Wallach have been appointed to the Bates College Board of Trustees, according to Bates President Donald W. Harward.