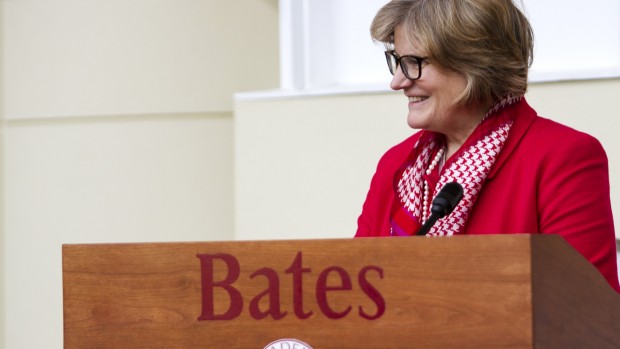 "We have ambitious goals for Bates, and I am inspired by this outpouring of support from the college community," said President Clayton Spencer.
Published on
Description

---

November 15, 2011
6:28 pm

Cubist CEO Mike Bonney '80 shares his career path from drugstore manager to pharmaceutical CEO, and talks about the company's superbug-fighting product, the antibiotic Cubicin.

November 2, 2011
7:54 pm

Featured remarks at the dedication ceremony of renovated Hedge and Roger Williams halls: Cosmin Ghita '12 of Bucharest, Romania, president of…

November 2, 2011
5:46 pm

Video clips of the five speakers at the Leadership Symposium on Cost, Value and Financial Aid at Bates College. Watch…

November 1, 2011
5:11 pm

Everyone knows that the big story about higher education is that costs are out of control. That story sets the tone for media coverage of higher education, and it's the story that keeps parents awake at night. And it's wrong.

October 31, 2011
6:26 pm

The journey of Paul Marks '83 from Bates to China, and from being "a fairly unengaged student" to an international…

October 27, 2011
6:38 pm

Led by President Nancy Cable and Chairman of the Board Mike Bonney '80, members of the Bates community participate in…

October 19, 2011
5:16 pm

Members of the Bates campus community are invited to meet with the Presidential Search Committee on Oct. 28 for a discussion forum and an update on the search for the college's next leader.

October 15, 2011
12:00 am

In her final Bates interview, outgoing Bates President Elaine Tuttle Hansen talks about the college meeting challenges by being "alive to change."

October 12, 2011
4:40 pm

Bates College, in partnership with Brown University and Northeastern University, will host approximately 200 New England higher education leaders for a Leadership Symposium on College Cost, Price and Financial Aid, featuring an array of national experts on these subjects, from noon to 3:30 p.m. Saturday, Oct. 29.

September 9, 2011
3:37 pm

Among trustees recently elected to the Bates board is Barbara M. Raths '96 of Portland, deputy treasurer of the state of Maine.