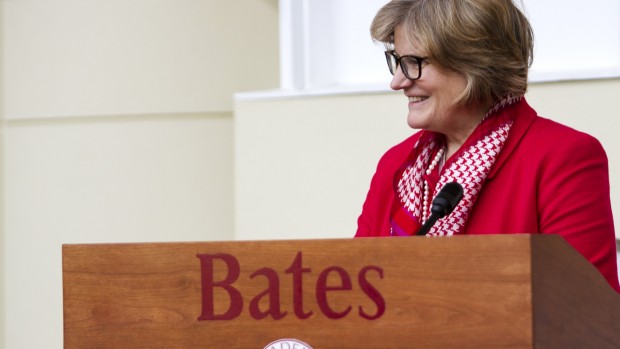 "We have ambitious goals for Bates, and I am inspired by this outpouring of support from the college community," said President Clayton Spencer.
Published on
Description

---

August 27, 1998
3:31 pm

Carol Geary Schneider, president of the Association of American Colleges and Universities (AACU), will discuss "Liberal Learning and the Engaged Academy" during convocation celebrating the 144th academic year at Bates College Wednesday, Sept. 9, at 4 p.m. on Coram Library quadrangle.

July 28, 1998
12:17 pm

Bates presents the St. Cecilia Piano Trio in a series of summer chamber music concerts Saturday, Aug. 8, Tuesday, Aug. 11, and Friday, Aug. 14, at 8 p.m. in the Olin Arts Center Concert Hall.

July 16, 1998
2:18 pm

Melissa M. Grable, a Bates College senior from Wilmette, Ill., recently returned from a month-long thesis research project aboard the U.S. Coast Guard cutter Polar Sea in the Arctic Ocean.

July 16, 1998
2:15 pm

Peter V.R. Tilney, a Bates College senior from Kennebunkport, recently returned from a month-long thesis research project aboard the U.S. Coast Guard cutter Polar Sea in the Arctic Ocean.

June 30, 1998
12:57 pm

Attorney Ann E. Bushmiller of Washington, D.C., cardiologist Colin M. Fuller of Verdi, Nev., author and businesswoman Linda Gramatky Smith of Westport, Conn., and businessman Bruce E. Stangle of Cambridge, Mass., have been appointed to serve on the bicameral board of trustees at Bates College, announced President Donald W. Harward.

June 16, 1998
12:40 pm

The Auburn School Department, in collaboration with four students at Bates College, is opening an environmental summer day camp for students in grades 2-8 at the 13-acre Auburn Land Lab located in the C.P. Wight School at the northern end of Lake Auburn. Transportation is available.

June 10, 1998
12:37 pm

There are openings still available in both sessions of the Bates College basketball camp, led by Jim Murphy and Joe Reilly, Bates women's and men's basketball coaches respectively.

June 8, 1998
12:29 pm

The Rev. Peter J. Gomes, a 1965 graduate of Bates College and Plummer Professor of Christian Morals and minister in the Memorial Church at Harvard University, received the Benjamin Elijah Mays Award Saturday, June 6 during reunion weekend at the Bates campus.

May 29, 1998
1:38 pm

Approximately 1,300 alumni, friends and family will convene at Bates College for the 1998 Reunion Weekend June 5-7.

May 7, 1998
1:18 pm

The Bates College Dance Festival, in sponsorship with the City of Lewiston Recreation Department, will offer a three-week Youth Arts Program July 27-Aug. 15 at the Lewiston Memorial Armory on Central Ave.