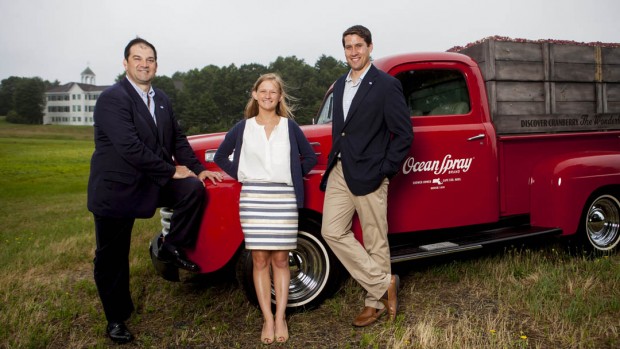 From Seattle, Wash., to New York City's Times Square, Bates students are participating in myriad off-campus experiences. The home front, of course, continues to percolate with scientific research, modern dance and extensive demolition…
Published on
Description

---

June 5, 1997
11:22 am

The Alumni Distinguished Service Award will be given to Lewiston resident Jane Ault Lindholm, Bates class of '37, as the college holds its 129th annual reunion from June 6 through June 8.

June 4, 1997
11:11 am

A political scientist was promoted to full professor at Bates College, and four other faculty members received tenure and were promoted to associate professors, effective July 1, announced President Donald W. Harward.

June 3, 1997
10:32 am

Stuart Abelson, a graduating senior from Andover, Mass., left Bates with a splash, when he waterskied across Lake Andrews on May 23, wearing a Bobcat mascot suit. Abelson was towed by a car driving alongside the two acre-size body of water that the students affectionately call "the puddle." Abelson's single pass on Lake Andrews lasted about 15 seconds.

May 26, 1997
12:41 pm

Twenty area residents received bachelor's degrees during Bates College's 131st commencement exercises on Monday (May 26) in an outdoor ceremony on the main quadrangle. Oscar Arias, the Nobel Peace Prize-winning former president of Costa Rica, delivered the commencement address to an audience of some 3,000.

May 5, 1997
12:24 pm

Bates College recently announced the appointment of a new vice president for financial affairs-treasurer, along with five other staff positions.

May 1, 1997
11:52 am

Stanton Wortham, assistant professor of education at Bates College, has been honored with the Maine Campus Compact's Faculty Service-Learning Award. Wortham was recognized for designing several innovative service-learning projects, including a program in which Latino Bates students tutor and mentor Latino schoolchildren in S.A.D. 52 (Turner, Maine) schools.

April 17, 1997
3:52 pm

Gov. Angus King will speak on "Leadership: Reflections at Midterm," at 4:30 p.m. April 29, in the Benjamin Mays Center.

April 14, 1997
3:07 pm

Eight Bates employees who have retired or will retire this year will be honored at the annual Employee Recognition Luncheon on Thursday . The noon luncheon and award ceremony will be in the Clifton Daggett Gray Athletic Bui lding. Retirees who have more than 10 years of service to the college will receive a Bates gift chair.

March 26, 1997
10:05 am

Religion professor Carl Benton Straub has been named the first Clark A. Griffith Professor in Environmental Studies at Bates College.

March 26, 1997
9:56 am

Poet Maya Angelou will receive an honorary Doctor of Humane Letters degree from Bates College on April 3 at 11 a.m. as part of the college's annual Founders Day Convocation. Angelou, acclaimed poet, playwright, educator, historian, actress, civil rights activist, producer and director, will address the audience in Merrill Gymnasium.