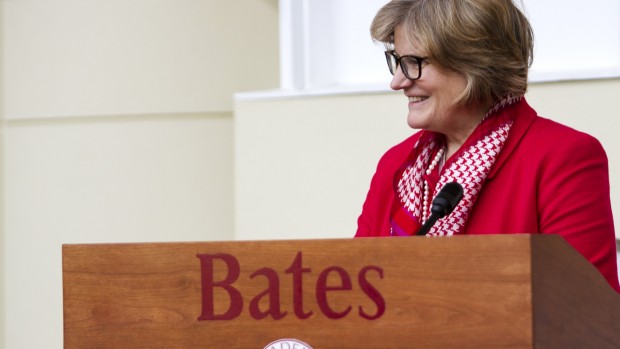 "We have ambitious goals for Bates, and I am inspired by this outpouring of support from the college community," said President Clayton Spencer.
Published on
Description

---

July 15, 2014
3:47 pm

Note this date: July 28 is the target date for the Campus Avenue Project construction fence to rise and for buildings, trees and other current features to start coming down.

July 2, 2014
2:11 pm

Campus Construction Update, July 2, 2014: Canham House has just been refurbished as the new home for the Career Development Center at Bates College.

June 2, 2014
2:50 pm

An architect's presentation gives details and, more important, preliminary visuals of two new residence halls on Campus Avenue, part of the college's Campus Life Project.

May 13, 2014
2:42 pm

Seven students create dishes from their own recipes, with the "theme ingredient" being food available in Commons.

March 27, 2014
4:21 pm

CCU returns with a look at the forthcoming first phase of the Campus Life Project.

March 20, 2014
12:49 pm

Snow falling through the lights of Garcelon Field and onto the men's lacrosse game created these enchanting nighttime scenes.

January 30, 2014
2:44 pm

"It's hard to comprehend billions of years," says geology professor Mike Retelle.

June 21, 2013
10:26 am

Before being painted, Hathorn Hall's columns get the bare naked treatment.

January 11, 2013
3:00 pm

Student and alums team up to move the Bates Outing Club headquarters from Alumni Gym to Chase Hall.

December 18, 2012
11:25 am

See the Bates campus and its environs in a delightful, new way, from up on high by a multicopter.