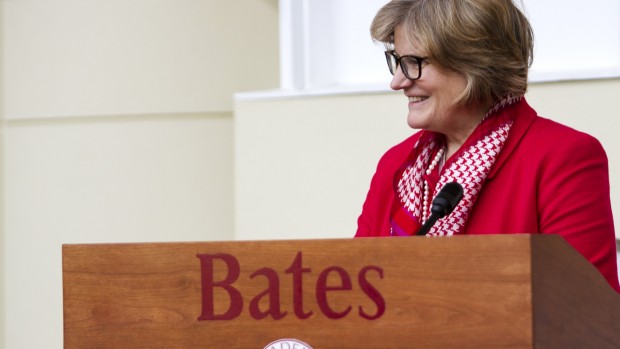 "We have ambitious goals for Bates, and I am inspired by this outpouring of support from the college community," said President Clayton Spencer.
Published on
Description

---

March 7, 1996
10:11 am

Speaking at 1 p.m. March 23 will be Ed Tatro, who will present a four-hour lecture in which he will link the FBI to the assassinations of Robert Kennedy and Martin Luther King Jr. Tatro was a consultant to director Oliver Stone during the filming of the motion picture "JFK."

March 6, 1996
10:01 am

Known to many as the godfather of the environmental movement, Brower served from 1952 to 1969 as the first executive director of the Sierra Club. During that time the organization grew from 2,000 to 77,000 members and became one of the nation's most influential voices for environmental protection. In 1969 he founded Friends of the Earth, which now operates in 53 countries.

February 27, 1996
10:05 am

Award-winning author Charles Baxter will read selections from his short stories and poetry (Thursday) March 7 at 8 p.m. in Chase Hall Lounge at Bates College. The public is invited to attend at no charge.