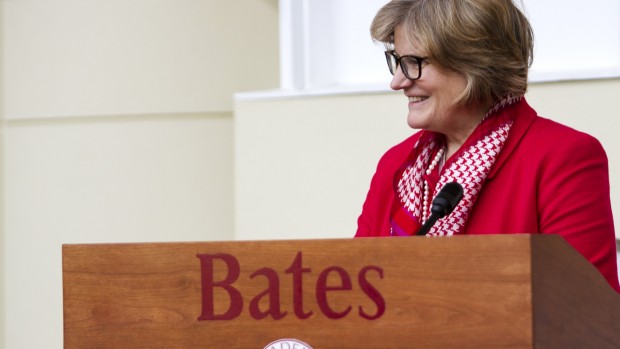 "We have ambitious goals for Bates, and I am inspired by this outpouring of support from the college community," said President Clayton Spencer.
Published on
Description

---

January 26, 2005
11:36 am

The Bates College Concert Series resumes Saturday, Jan. 29, with a performance by the highly accomplished classical pianist Awadagin Pratt in the Olin Arts Center Concert Hall, 75 Russell St.

November 11, 2004
12:29 pm

At 8 p.m. Friday, Nov. 12, the Bates College Orchestra presents a program including a work by conductor Philip Carlsen, a setting of poems by renowned Maine writer Wesley McNair. At 8 p.m. Saturday, Nov. 13, Indonesian puppet master Joko Susilo will present a shadow-puppet performance of "The Abduction of Sinta," a central story from the Hindu epic Ramayana. Susilo will be accompanied by the Bates Gamelan Mawar Mekar ("blossom of inspiration"), an Indonesian-style gamelan orchestra, and guest musicians from New Hampshire and Minnesota. Both events take place in the Olin Arts Center Concert Hall at Bates, 75 Russell St., and are open to the public at no charge. For more information, please call 207-786-6135.

November 3, 2004
1:32 pm

The Bates College Museum of Art presents a symposium on Marsden Hartley, a Lewiston native and a pioneer in modern American art, on Friday and Saturday, Nov. 5-6.

November 3, 2004
12:16 pm

Often viewed as playwright John Guare's most popular and important work, "The House of Blue Leaves" is the major fall theater production of the Bates College theater department. Directed by Professor of Theater Paul Kuritz, "Blue Leaves" will be performed at 8 p.m. on Fridays and Saturdays, Nov. 5-6 and 12-13, and at 2 p.m. on Sundays, Nov. 7 and 14.

October 13, 2004
12:22 pm

Distinguished by an eclecticism that encompasses free improvisation, Duke Ellington classics and sacred music, Boston's Aardvark Jazz Orchestra continues the 2004-05 Bates College Concert Series at 8 p.m. Saturday, Oct. 16, in the Olin Arts Center, at 75 Russell St.

October 9, 2004
1:00 pm

"It's often said that democracies are measured by the participation of their citizens," President Elaine Tuttle Hansen observed. "We are fortunate at Bates to have student Democrats and Republicans who each year take that civic commitment to heart and work to register their fellow students."

October 7, 2004
1:16 pm

Bates senior Ryan Heffernan of Napa, Calif., exhibits "Portraits of the Harvest 2004," a series of black and white photographs of workers harvesting grapes in Mendoza, Argentina, and in his hometown, in Chase Hall Gallery, Campus Avenue, Bates College. The public is invited to attend the exhibition, on display through Oct. 18, at no charge. A two-hour reception with the photographer will be held in the exhibtion space at 4 p.m. Saturday, Oct. 9.

October 6, 2004
1:47 pm

Amandla!, a Bates College organization addressing issues of people of black heritage, has launched a fund-raising drive to assist citizens of the Caribbean islands devastated by recent hurricanes and Sudanese refugees. All proceeds will go directly to the International Red Cross Emergency Relief Fund and Doctors Without Borders. For further information, e-mail Melisa March at mmarch@bates.edu or call 207-795-5118.

October 6, 2004
1:40 pm

Safa Abu-Rabia and Hannah Safran, two feminist peace activists working in Israel, offer a pair of lectures Monday, Oct. 11, in Chase Hall, Campus Avenue, Bates College. Titled "Israeli-Palestinian Peacework: Two Women's Story," the afternoon lecture at 4:30 p.m. in Skelton Lounge is part of "Spiritual Journeys: Stories of the Soul 2004-05."

January 19, 2004
11:42 am

A senior art major's thesis project has transformed Pettengill Hall's Perry Atrium, covering most of its three-story glass wall with translucent paintings that flood this popular space with the glowing colors of stained glass.