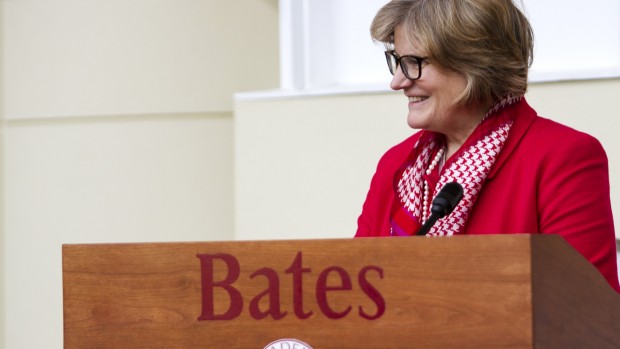 "We have ambitious goals for Bates, and I am inspired by this outpouring of support from the college community," said President Clayton Spencer.
Published on
Description

---

September 14, 2001
3:28 pm

Jerry O'Sullivan will perform traditional Irish music on pipes and whistle at Bates College in the Olin Arts Center Concert Hall Wednesday, September 26.

September 6, 2001
3:59 pm

An exhibition of paintings and drawings by distinguished artist Hyman Bloom will be on view at the Bates College Museum of Art from Sept. 14 through Oct. 17.

September 5, 2001
4:22 pm

The 2001-02 Bates College Concert Series continues with a pair of performances by Trio Parole of the complete Mozart piano trios in two separate programs Saturday, Sept. 15, and Sunday, Sept. 16, in the Olin Arts Center Concert Hall.

August 23, 2001
3:06 pm

Internationally acclaimed pianist and Nonesuch recording artist Richard Goode will open the 2001-02 Bates College Concert Series with an interpretation of classical masterpieces at 8 p.m. Wednesday, Sept. 5, in the Olin Arts Center Concert Hall.

June 14, 2001
8:27 am

Sarah Potter '77, director of the Bates College Store, and her staff annually offer a summer reading list comprising titles suggested by Bates faculty and staff. This year's list, the fifth annual, includes more than 150 titles recommended by some 70 members of the Bates community.

May 17, 2001
4:10 pm

The Department of Theater at Bates College presents "Prometheus Bound" by Aeschylus Thursday, May 24 through Sunday, May 27. All performances will be held in the Shaeffer Theatre.

April 17, 2001
3:26 pm

World-renowned chef Martin Yan, whose cooking show "Yan Can Cook" has brought Chinese cuisine to millions will help prepare a community dinner Thursday, May 3, in the Chase Hall Commons and several other campus locations at Bates College.

April 9, 2001
3:06 pm

A Brief History of Printmaking and the Annual Senior Exhibition, will be featured from April 13 to June 3 at the Bates College Museum of Art, 75 Russell St.

March 13, 2001
4:06 pm

Qamar-ul Huda, assistant professor of Islamic studies and comparative theology, Boston College, will discuss Spiritual Liberation: A Sufi View Monday, March 19, in Skelton Lounge of Chase Hall, 56 Campus Ave.

February 1, 2001
1:06 pm

Claudio Calmens, a contemporary guitarist from Argentina, will perform a program of modern works at 8 p.m Friday, Feb. 9, in the Olin Arts Center Concert Hall of Bates College. The concert is free and open to the public.