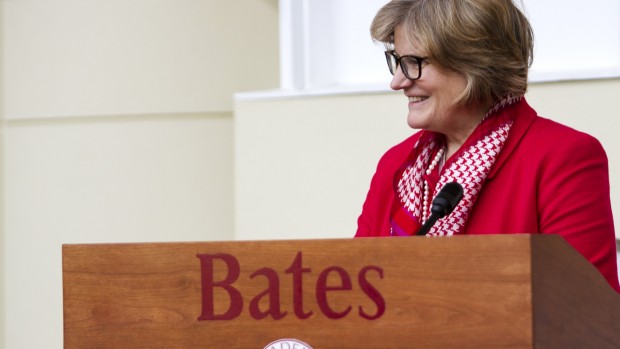 "We have ambitious goals for Bates, and I am inspired by this outpouring of support from the college community," said President Clayton Spencer.
Published on
Description

---

April 1, 1997
2:49 pm

Bates College will break ground for a new $17 million academic building on Saturday at 10 a.m. at the corner of Bardwell Street and Andrews Road.

August 26, 1996
11:09 am

In celebration of the 10th anniversary of Bates College's Olin Arts Center, the Museum of Art will launch its 1996-97 season at 7 p.m. Sept. 6 with an opening reception for an upper-gallery exhibit by Bates College faculty. An exhibition of highlighted works from the museum's permanent collection along with "Modern Artists and Book Illustration" will also be on display on the lower-level gallery.

May 30, 1996
11:47 am

The exhibition "Nancy Hemenway: Embroidered Wall Sculptures" will open at the Bates College Museum of Art on June 7 with a reception for the internationally recognized artist at 7 p.m. in the Olin Arts Center. The public is invited to attend free of charge.

May 30, 1996
11:46 am

The Bates College Museum of Art will participate in the second annual Maine Museum Day on June 8 by opening its doors to the public free of charge from 10 a.m. to 5 p.m.

March 12, 1996
11:06 am

The Maine Gay Men's Chorus will perform a concert, "Love Don't Need A Reason," at Bates College on March 17 at 3 p.m. in the Olin Arts Center Concert Hall. The public is invited to attend free of charge.

March 12, 1996
11:00 am

The recital's featured presentations will included the sonata "Undine" by Reinecke, a challenging 19th-century work for the flute and piano, and "Sonatine" by Dutilleaux, a modern French virtuoso selection.

March 12, 1996
10:44 am

An expert in late imperial and early modern Chinese history, she is the author of several books including "Agricultural Change and the Peasant Economy of South China," "Chinese Society in the Eighteenth Century" and "Education and Literacy in Ch'ing China" as well as the editor of "Death Ritual in Late Imperial and Modern China."

March 12, 1996
10:35 am

A consultant for "Struggles in Steel: The History of African-American Steelworkers," a documentary film to be released later this year, Hinshaw is the author and editor of numerous publications concerned with race, ethnicity and labor history, including the forthcoming book he co-edited with Paul LeBlanc, "U.S. Labor in the Twentieth Century: Studies in Fragmentation and Insurgency" (Humanities Press, 1997).

March 7, 1996
10:11 am

Speaking at 1 p.m. March 23 will be Ed Tatro, who will present a four-hour lecture in which he will link the FBI to the assassinations of Robert Kennedy and Martin Luther King Jr. Tatro was a consultant to director Oliver Stone during the filming of the motion picture "JFK."

March 6, 1996
10:01 am

Known to many as the godfather of the environmental movement, Brower served from 1952 to 1969 as the first executive director of the Sierra Club. During that time the organization grew from 2,000 to 77,000 members and became one of the nation's most influential voices for environmental protection. In 1969 he founded Friends of the Earth, which now operates in 53 countries.