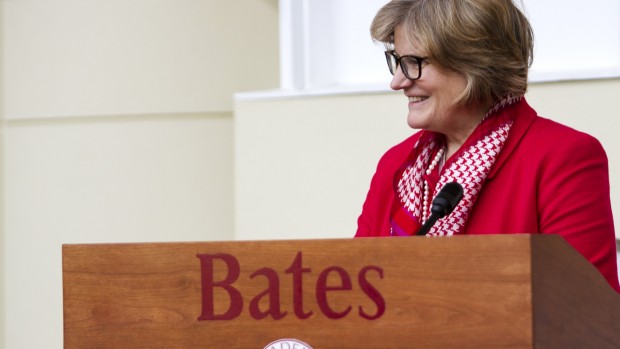 "We have ambitious goals for Bates, and I am inspired by this outpouring of support from the college community," said President Clayton Spencer.
Published on
Description

---

July 26, 2011
11:55 am

"It's the windows," said Doris Vincent, administrative assistant for the Off-Campus Study Program. "There are so many big, bright windows." It was also the wall colors that glowed so pleasantly in the light from all those windows. And it was the generous space in the new offices. And the long views from the big windows. And the cozy lounges. In short, the few staffers and faculty from Off-Campus Study and the foreign language departments who toured Roger Williams Hall on July 7 were glowing right along with the wall paint.

July 6, 2011
8:56 am

Despite its 14 feet of height and 500 pounds of weight, a copper cupola seemed surprisingly delicate as a crane hoisted it back into place atop the College Chapel's southeast tower on June 9.

July 6, 2011
8:53 am

On June 27, right on schedule, faculty members in philosophy, religious studies and environmental studies moved into their new offices in the renovated Hedge Hall. About 10 faculty and staff, out of 20 total occupants, were on campus to take possession of their new quarters, says project manager Paul Farnsworth.

July 6, 2011
8:32 am

On June 27, right on schedule, faculty members in philosophy, religious studies and environmental studies moved into their new offices in the renovated Hedge Hall.

June 16, 2011
3:06 pm

Photographer Phyllis Graber Jensen and Bates Magazine editor Jay Burns tagged along as Philip Isaacson '47, noted Maine architecture critic…

June 8, 2011
6:04 pm

With Reunion Weekend upon us, which includes a Saturday gathering to mark the performance of the first play in Schaeffer…

June 6, 2011
2:14 pm

Like sands through the hourglass, so are the final days of the renovation of Hedge and Roger Williams halls. On Monday, June 27, faculty in philosophy, religious studies and environmental studies will receive key-card access to the renovated Hedge Hall and be able to start settling into their spiffy new offices. Four weeks later, July 25 is moving day for staff of the Language Resource Center and Off-Campus Study office and the faculty of the foreign-language programs that will occupy Roger Williams Hall.

May 16, 2011
2:19 pm

On May 5, workers used a crane to remove the copper cupola from the turret at the southeast corner of the College Chapel. One at a time, the building's four cupolas will be refurbished at the site and replaced as part of the renovation, which also entails extensive work on exterior masonry and the replacement of the roof covering. The cupola is about 14 feet tall and weighs roughly a quarter of a ton, says project manager Greg Hogan.

May 11, 2011
11:42 am

Long recognized for the strength of its drawing collection, the Museum of Art reveals multiple dimensions of that medium in major exhibitions this summer. Part of a statewide initiative exploring the art of drawing, the exhibition Emerging Dis/Order: Drawings by Amy Stacey Curtis, Alison Hildreth and Andrea Sulzer features new work by respected Maine artists. Meanwhile, art and illustrated letters from one of America's most famous artist families constitute Andrew and Jamie Wyeth: Selections from the Private Collection of Victoria Browning Wyeth.

April 29, 2011
12:58 pm

"Wow" was the consensus among the dozen-plus faculty and staff on an April 26 tour of Hedge Hall led by project manager Paul Farnsworth and clerk of the works Chris Streifel.