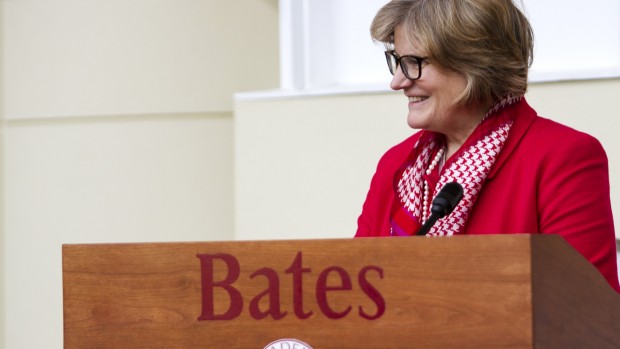 "We have ambitious goals for Bates, and I am inspired by this outpouring of support from the college community," said President Clayton Spencer.
Published on
Description

---

January 7, 2011
9:52 am

You can't judge a book by the cover, as Willie Dixon wrote. But you can, as Campus Construction Update wrote (perhaps less memorably) judge the progress of a construction project by its outer surfaces.

December 20, 2010
3:46 pm

Construction workers in Hedge Hall got an early Christmas present Dec. 16 with the installation of one of the permanent stairways. After months of lugging themselves and their equipment up and down ladders and vertigo-inducing open-sided stairs, the workers can now change altitude in comfort and dignity. "It will make a huge difference," says project manager Paul Farnsworth.

December 8, 2010
2:05 pm

As Bates continues to transform two 19th-century residence halls into state-of-the-art academic buildings, the college has received a $150,000 grant from the George I. Alden Trust to support the renovation project.

December 6, 2010
10:27 am

It isn't the prettiest wrapping job you'll see this time of year. But when the plastic sheeting around the Hedge Hall addition does come off, probably in January, you can expect a fine present indeed: neat courses of brick and granite that masons are laying now.

November 12, 2010
1:49 pm

The Bates helicopter fleet not being at our disposal, Campus Construction Update has spent some time seeking a high vantage point to photograph the work being done atop Roger Williams Hall.

November 2, 2010
10:23 am

If you think a Maine summer goes by quickly, take a look at this time-lapse video showing the installation of…

November 1, 2010
12:39 pm

During the third week of October, much of campus was treated to the spectacle of a big yellow crane hoisting the roof of Roger Williams Hall off in big old chunks and depositing them on the ground. By Oct. 28, Bill was all but wearing a flattop — the exception being a triangle of roof on the Alumni Walk side, with two chimneys, that is being retained.

October 27, 2010
10:19 am

Tickets for the Oct. 28 gubernatorial debate are free and a limited number of them are still available on a first-come, first-served basis, via e-mail at .

October 15, 2010
2:01 pm

Putting up steel and stir-frying food don't have much in common, but there is one salient resemblance: pretty much all the slow and fussy work happens at the beginning, and the end goes fast.

October 11, 2010
12:26 pm

As dozens of smiling Garcelon Field donors stood by, President Elaine Tuttle Hansen and Director of Athletics Kevin McHugh cut a wide garnet ribbon held by Susanne Jarnryd '87 and Erik Jarnryd '87, whose gift provided the impetus for the $2.6 million, donor-funded renovation of Garcelon Field.