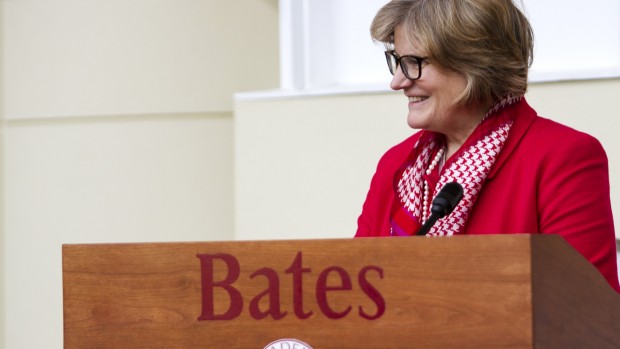 "We have ambitious goals for Bates, and I am inspired by this outpouring of support from the college community," said President Clayton Spencer.
Published on
Description

---

October 9, 2010
2:19 pm

The fate of Chase Hall. The state of town-gown relations. The tradeoffs between finite resources and key priorities. And what does it say that Bates ranks fourth in a Newsweek listing of schools "stocked with jocks"? Those were a few of the topics some 60 parents raised in a conversation with President Elaine Tuttle Hansen and a handful of senior staff early on Parents & Family Saturday.

October 6, 2010
4:20 pm

Lewiston Sun Journal reporter Kalle Oakes checks in on how players and coaches like the new Garcelon Field surface and…

October 4, 2010
4:20 pm

The final Maine Public Broadcasting Network debate of the 2010 Maine gubernatorial race takes place 8 p.m. Oct. 28 on…

October 4, 2010
2:08 pm

• Click thumbnails below to view  Garcelon Field images taken this week:Bates College will dedicate comprehensive renovations to historic Garcelon…

October 1, 2010
2:12 pm

So here we were contemplating the renovation of Hedge and Roger Williams halls and thinking, Steel, baby, steel! It's all about the steel! — But that's so two weeks ago. Because now it's all about the wood.

October 1, 2010
1:59 pm

With the Garcelon Field dedication and inaugural game just days away, it's a race to the finish for the R.A.D. Sports crew renovating the facility. Meanwhile, Hedge Hall is gaining headroom while Roger Williams Hall embiggens its footprint.

September 29, 2010
9:57 am

Maine's best-known pianist, Frank Glazer, performs at Bates on Nov. 13 with the Bates and Bowdoin College Orchestra, and on Dec. 5 in a solo program celebrating Robert Schumann.

September 23, 2010
3:12 pm

Ethan Lipton and His Orchestra bring roots-influenced, lyrically rich music to Bates College on Oct. 1. The Brooklyn-Bates connection resumes two days later as Naomi Shelton and The Gospel Queens perform in the Olin concert hall. The Bates Gospelaires, a student ensemble, open.

September 23, 2010
3:03 pm

Baroque ensemble Musica Nuova brings to Bates a program called It's Complicated -– a name borrowed from Facebook — at 7 p.m. Friday, Sept. 24, in the Olin Arts Center Concert Hall, 75 Russell St. Focused on music by Italian composers from the early 1600s, this highly entertaining concert illustrates that love and its complexities haven't changed so much over the years.

September 20, 2010
10:18 am

"That's going to be a fun thing to watch to go together," Garcelon Field project manager Mike Gustin said as the first components of the new Garcelon Field grandstand showed up on Sept. 15.