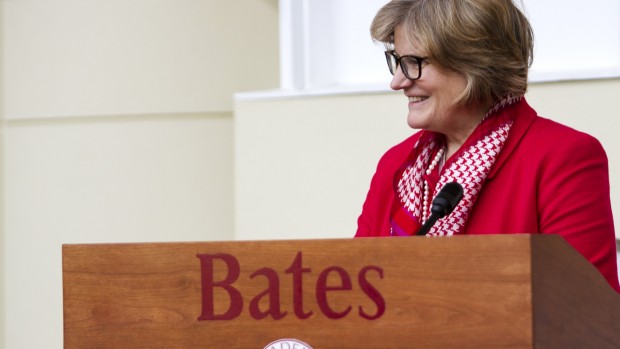 "We have ambitious goals for Bates, and I am inspired by this outpouring of support from the college community," said President Clayton Spencer.
Published on
Description

---

May 21, 2014
9:31 am

John Stewart '14 is one of Bates' 10 Fulbright recipients for 2014.

May 21, 2014
9:18 am

Amy Strada '14 is one of Bates' 10 Fulbright recipients for 2014.

May 13, 2014
2:42 pm

Seven students create dishes from their own recipes, with the "theme ingredient" being food available in Commons.

April 18, 2014
11:58 am

Why, Luft asks in her guest blog post, did some Hutu "evade participation and help Tutsi" instead of killing them?

April 3, 2014
1:24 pm

Simone Schriger, a senior psychology major from Los Angeles, is one of two Bates seniors to be awarded a 2014 Watson Fellowship.

March 28, 2014
12:50 pm

Featuring brothers called "the best two-guitar team in existence," the Assad Family brings their "Brazilian Songbook" program to Bates on April 6.

March 27, 2014
4:21 pm

CCU returns with a look at the forthcoming first phase of the Campus Life Project.

March 20, 2014
12:49 pm

Snow falling through the lights of Garcelon Field and onto the men's lacrosse game created these enchanting nighttime scenes.

March 7, 2014
2:16 pm

The Silk Trio, a group of innovative string players specializing in the music of China, performs on March 14.

January 31, 2014
12:47 pm

Rachel Baumann '14 and Asha Mohamud '15 sought to understand experiences outside the U.S. that had changed the lives of people close to them.