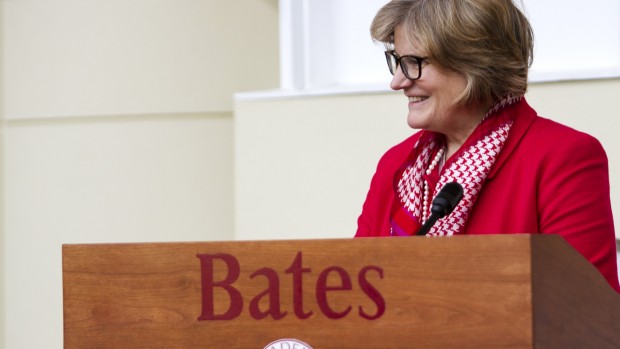 "We have ambitious goals for Bates, and I am inspired by this outpouring of support from the college community," said President Clayton Spencer.
Published on
Description

---

January 31, 2014
12:45 pm

Rachel Baumann's interest in her grandparents gained new intensity when, supported by a Phillips Fellowship, she spent summer 2013 researching their story of courage, audacity and survival as Jews in Nazi-controlled Europe.

January 31, 2014
12:37 pm

In Tanzania during the summer of 2013, Phillips Fellow Asha Mohamud '15 learned a valuable lesson about perspective.

January 30, 2014
2:44 pm

"It's hard to comprehend billions of years," says geology professor Mike Retelle.

December 20, 2013
2:00 pm

With a Bates banner at the ready, the climbers hope to celebrate the new year atop the 22,800-foot peak.

December 6, 2013
2:36 pm

"What I was doing to create a dance stemmed from fieldwork that was anthropological and choreographic," says Colleen Fitzgerald '14, who choreographed "Intricate Glances Will Meet Here."

November 8, 2013
3:31 pm

Mid-November concerts at Bates reflect the diversity and international scope of the arts at the college.

November 7, 2013
1:53 pm

Celebrating the depth and variety of African culture, Bates presents the third annual Inside Africa Fashion Show on Nov. 8

October 16, 2013
3:15 pm

Justice Albert Sachs, a key architect of South Africa's post-apartheid constitution, speaks at Bates Oct. 24.

October 8, 2013
2:01 pm

Celebrating the introduction of its Latin American studies program, Bates presents a festival of independent films set in Latin America Oct. 11-13.

September 27, 2013
2:01 pm

Rubén Martínez, chronicler of the harsh consequences of boom times in the West, gives the annual Otis Lecture on Oct. 14.