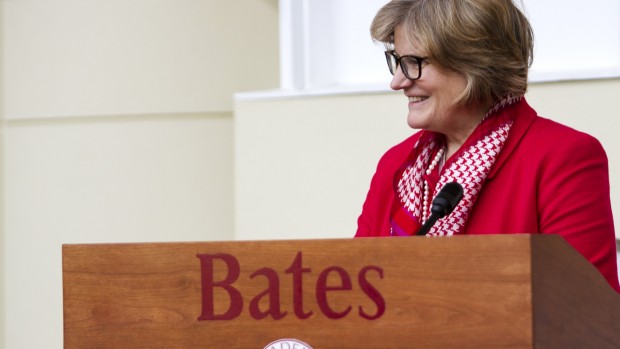 "We have ambitious goals for Bates, and I am inspired by this outpouring of support from the college community," said President Clayton Spencer.
Published on
Description

---

February 26, 2013
4:06 pm

Bates presents the young Israeli and Palestinian musicians of Heartbeat, a band seeking to use music to promote peace in the Middle East, on Feb. 27

February 19, 2013
1:02 pm

An African monkey known as a lesula was recently confirmed as a new species by Kate Detwiler '95 and her fellow primate researchers.

January 25, 2013
1:30 pm

The Saudi Gazette publishes "Bridging the Gap," a student-written account of the 2012 Short Term to Saudi Arabia.

January 18, 2013
1:45 pm

Teaching genocide is about finding ways to "create connections and dialogues" says Alex Dauge-Roth.

January 11, 2013
3:00 pm

Student and alums team up to move the Bates Outing Club headquarters from Alumni Gym to Chase Hall.

December 18, 2012
11:25 am

See the Bates campus and its environs in a delightful, new way, from up on high by a multicopter.

December 5, 2012
4:07 pm

Danforth's letter is in response to a review of the book On Saudi Arabia by Karen Elliott House.

December 5, 2012
1:44 pm

Lena Sene '00 is a managing parter with Deer Isle Capital and an expert on global investing in Africa.

October 29, 2012
4:00 pm

Photographs reflecting the poignancy and celebration, musical offerings and spoken word, of the service for naming Peter J. Gomes Chapel…

October 26, 2012
9:30 am

The Chapel became the Peter J. Gomes Chapel on Oct. 25 as hundreds gathered to remember the late preacher and teacher in words and song.