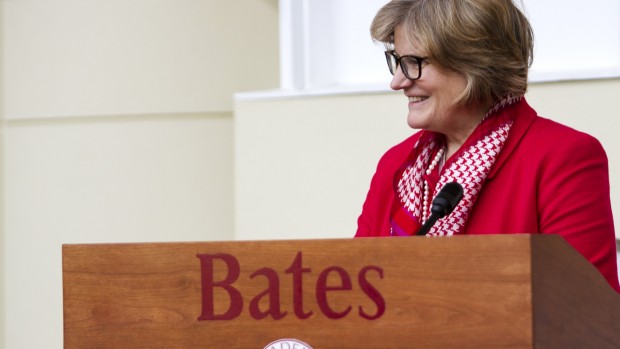 "We have ambitious goals for Bates, and I am inspired by this outpouring of support from the college community," said President Clayton Spencer.
Published on
Description

---

April 9, 2001
3:06 pm

A Brief History of Printmaking and the Annual Senior Exhibition, will be featured from April 13 to June 3 at the Bates College Museum of Art, 75 Russell St.

March 29, 2001
11:49 am

Professor of comparative literature to discuss women and sovereignty in 19th-century China Monday, April 1 in Pettengill Hall at Bates College.

March 23, 2001
2:41 pm

Kurt Eilhardt, a senior classical and medieval studies major at Bates College, was recently awarded a Fulbright scholarship to study medieval Nordic culture and the introduction of Christianity to Norway at the University of Oslo in 2002.

March 13, 2001
4:06 pm

Qamar-ul Huda, assistant professor of Islamic studies and comparative theology, Boston College, will discuss Spiritual Liberation: A Sufi View Monday, March 19, in Skelton Lounge of Chase Hall, 56 Campus Ave.

March 5, 2001
3:36 pm

James L. Watson, Fairbank Professor of Chinese Society and professor of anthropology at Harvard University, will discuss The New Cultural Imperialism: McDonald's in China Wednesday, March 14, in the Keck Classroom of Pettengill Hall, 4 Andrews Road.

February 21, 2001
2:03 pm

Margaret Maurer-Fazio, assistant professor of economics, and Francisca Lopez, associate professor of Spanish, have been awarded Phillips Faculty Fellowships, announced Donald W. Harward, president of Bates College.

February 1, 2001
1:06 pm

Claudio Calmens, a contemporary guitarist from Argentina, will perform a program of modern works at 8 p.m Friday, Feb. 9, in the Olin Arts Center Concert Hall of Bates College. The concert is free and open to the public.

January 8, 2001
8:39 am

Victoria Wyeth, granddaughter of famed painter Andrew Wyeth and guest curator of the "Andrew Wyeth: Her Room" exhibit at Bates College, will discuss his work and the exhibit at 3 p.m. Saturday, Jan. 13 and 20, and Sunday, Jan. 14 and 21, in the Bates College Museum of Art, Olin Arts Center.

September 14, 2000
3:15 pm

Judith Ortiz Cofer, professor of English and creative writing at the University of Georgia, will discuss "A Casa of My Own" at 4 p.m. Thursday, Sept. 21, in the Edmund S. Muskie Archives at Bates College as part of the college's celebration of Hispanic Heritage Month. The public is invited to attend free of charge.

August 7, 2000
3:24 pm

The Edmund S. Muskie Archives and the Special Collections division of Bates College's George and Helen Ladd Library have merged and are now housed at the Muskie Archives, 70 Campus Avenue, Lewiston, announced Kurt Kuss, curator of rare books, manuscripts and photographs at Bates College.