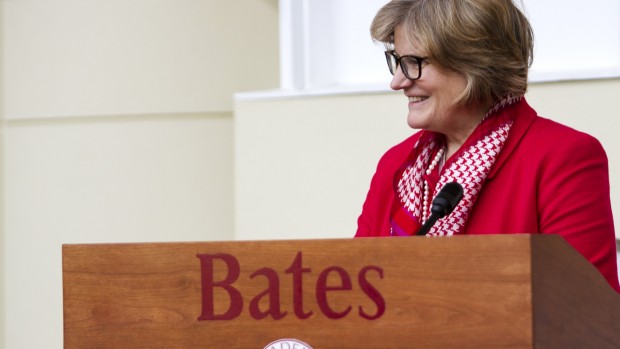 "We have ambitious goals for Bates, and I am inspired by this outpouring of support from the college community," said President Clayton Spencer.
Published on
Description

---

October 17, 2012
1:56 pm

Increasing short-term relief aid — although an important stopgap measure — is not a durable solution for Yemen.

July 17, 2012
2:22 pm

On July 13, Chicago's Zolla/Lieberman Gallery opened exhibitions by Bates Museum of Art Director Dan Mills and two other artists.

June 1, 2012
3:02 pm

Seven 2012 Bates graduates have received Fulbright awards for teaching and conducting research in Europe, Asia and South America.

May 8, 2012
4:49 pm

Peter Beinart, an author who predicts a breach between young U.S. Jews and Israel if that country maintains its current policies toward the Palestinians, speaks on May 15.

May 8, 2012
10:17 am

Two first-year students have received a Projects for Peace grant to stimulate economic growth and support a rural education initiative in India.

May 2, 2012
2:47 pm

The major German newspaper Berlin Zeitung reviewed a gallery exhibition in Berlin by Robert Feintuch, a member of the Bates art faculty.

March 13, 2012
5:13 pm

A conception of God's beauty as expressed in the physical world is a theme of items to be offered at auction from the collection of the Rev. Professor Peter J. Gomes '65.

February 22, 2012
2:23 pm

The Global Lens series of international films returns this month starting with Brazilian director Sérgio Bianchi's The Tenants on Feb. 27.

February 15, 2012
1:50 pm

The Bates College arts outreach program "Rollin' to Olin" resumes this month.

February 2, 2012
4:28 pm

Traditional and contemporary fashions from Africa are the focus of Bates' premiere Inside Africa Fashion Show on Feb. 10.