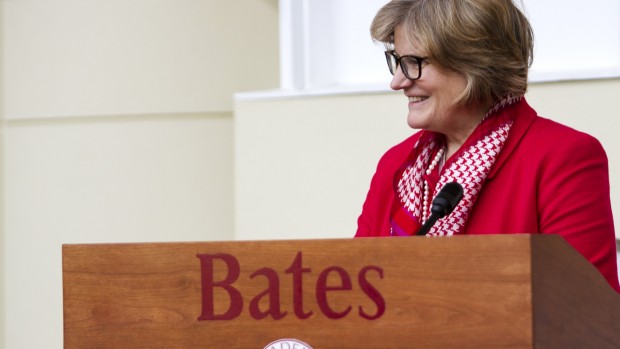 "We have ambitious goals for Bates, and I am inspired by this outpouring of support from the college community," said President Clayton Spencer.
Published on
Description

---

October 31, 2011
6:03 pm

Bates' global reach has been a driving theme behind Open to the World: Bates Celebrates Unbounded Learning, a celebration of…

October 27, 2011
6:38 pm

Led by President Nancy Cable and Chairman of the Board Mike Bonney '80, members of the Bates community participate in…

October 25, 2011
6:37 pm

"I love to watch other people take photos," says photographer Ebbe Sweet '11, a program assistant on the Bates Semester…

October 21, 2011
10:28 am

A best-selling author whose writing has explored Americans' relationships to faith, Jeff Sharlet examines anti-Islamism through the lens of this year's tragic massacre in Norway.

October 10, 2011
1:18 pm

On an October day that could have passed for August, Bates marked the 25th anniversary of its Olin Arts Center with a family arts festival. And while the attractions included a marching band, popcorn, balloon animals and juggling, the festivity was much more than just another day at the circus. The headliners, avant-garde marching band Asphalt Orchestra and the New Vaudeville act Two, managed both to honor the long traditions they represent and to show them in a new light.

October 7, 2011
10:56 am

George Mitchell, the former U.S. senator delivers the keynote address during a weeklong celebration of international and interdisciplinary education at Bates

October 7, 2011
10:49 am

More about "Bates Unbounded: Open to the World" speakers Gary Hirshberg, Paul Marks '83 and U.S. Sen. George Mitchell.

October 6, 2011
3:31 pm

Bates Athletics hosts L/A Community Day on Saturday, Oct. 22, in conjunction with several home games against Middlebury College. The college invites all Lewiston and Auburn schoolchildren to these events, involving the local community in the NCAA's "Take a Kid to the Game" initiative. In addition to the Bobcat athletic contests, there will be youth clinics, campus tours and other fun family activities, as well as Auburn/Lewiston Fly Football games before the Bates football game and at halftime.

October 4, 2011
9:46 am

As part of the 2011-12 celebration of the Olin Arts Center's 25th anniversary, the Bates College Museum of Art exhibition 25: Selections from the Permanent Collection offers an in-depth exploration of the museum's holdings. Paul Cezanne, Mary Cassatt, Charlie Hewitt and Robert Indiana are among the many artists featured.

October 4, 2011
9:33 am

A family arts festival at 10 a.m. Saturday, Oct. 8 kicks off the celebration of the Olin Arts Center's 25th anniversary. The festival features the high-intensity New Vaudeville ensemble Two, pianist Ahmad Hussan Muhammad and New York's avant-garde marching band Asphalt Orchestra, which will lead tours of the building and perform in concert.