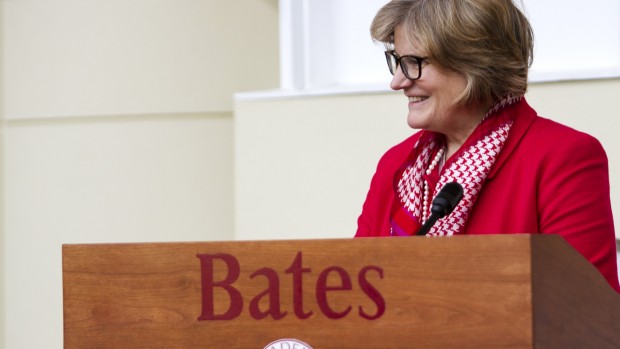 "We have ambitious goals for Bates, and I am inspired by this outpouring of support from the college community," said President Clayton Spencer.
Published on
Description

---

April 2, 2009
9:17 am

Jessice Kase '09 displays "Seated Man With Blue Shirt" in the annual senior art exhibition.

April 2, 2009
9:10 am

Rachel Kaplan '09 displays "Tire Tracks" in the annual senior art exhibition.

April 1, 2009
12:35 pm

See an April slide show of life at Bates. [More...]

March 10, 2009
12:52 pm

Bates plays host to the NCAA Skiing Championships, March 11-14. See a video preview of the Black Mountain Nordic course produced by H. Lincoln Benedict '09

March 10, 2009
12:44 pm

Welcoming the best collegiate skiers in the nation, Bates College plays host to the 2009 NCAA Skiing Championships March 11-14 at its two home venues: Sunday River in Bethel, Maine (alpine) and Black Mountain in Rumford, Maine (Nordic).

March 6, 2009
12:04 pm

Marylyn Scott, director of multicultural recruitment and associate dean for student transition, keeps warm with a tumbler of hot tea.

March 1, 2009
4:20 pm

Josh Holdeman '93 has his clients in focus during a landmark Christie's sale

March 1, 2009
12:52 pm

It was still late winter at Bates as we went to press for the Spring issue, so this June 2008 photograph of a rugosa rose in front of Carnegie Science was chosen hopefully.

March 1, 2009
12:13 pm

Josh Holdeman '93, international director of 20th-century art for Christie's, talks to clients during bidding. Holdeman and his team oversaw the sale Icons of Glamour and Style: The Constantiner Collection in December 16-17, 2008, which acheived a record total — more than $7 million — for a single owner Christie's sale dedicated to photographs.

March 1, 2009
11:34 am

It's pandemonium atop a beginner lift at the Bretton Woods ski resort in New Hampshire. Limbs flail, ski equipment disconnects, and clothing detaches as fledgling skiers hit the snow on their first lift ride. Then Alexa Bernotavicz '94 steps in. She rights the skiers, guides them out of harm's way, and readies the lift for yet another wave of chaos.