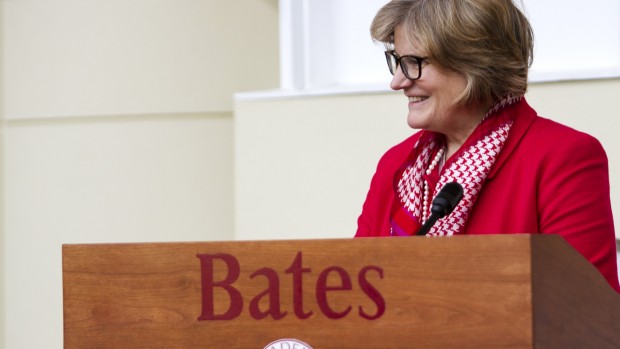 "We have ambitious goals for Bates, and I am inspired by this outpouring of support from the college community," said President Clayton Spencer.
Published on
Description

---

January 18, 2011
3:09 pm

In case you think that all the heavy lifting in the cause of social justice is over and done with, the Rev. James Lawson has news for you. "I am absolutely convinced" that the 21st century will be the time for a social justice movement that overshadows the transformative campaigns of the previous century, Lawson told a Bates College audience gathered on Jan. 17 to celebrate the life and work of the Rev. Martin Luther King Jr.

November 18, 2010
2:33 pm

Students and staff strutted their stuff on the runway Nov. 17 as sustainability met fashion for the fifth annual Trashion Show. The Bates community devoured deserts in the Gray Cage while observing fashionable creations transformed from would have been waste.

October 6, 2010
2:08 pm

Bates College junior Michelle Schloss directs Fuddy Meers, the story of an amnesiac who must learn the facts of her existence anew each day, in performances at 7:30 p.m. Friday and Saturday, Oct. 15-16, and 2 p.m. Sunday, Oct. 17, in the Black Box Theater, Schaeffer Theatre, 305 College St.

October 1, 2010
2:16 pm

With its dedication and inaugural game a week away, what's left to be done in the renovation of Garcelon Field? "Just a whole lot of loose ends," says project manager Mike Gustin.

September 17, 2010
5:18 pm

The grandstand is rising at Garcelon Field, the eagle landed at 10 Frye St., and they're still slinging steel at Hedge and Roger Williams halls.

September 3, 2010
1:59 pm

The new FieldTurf playing surface at Garcelon Field is "phenomenal," says one Bobcat. Roger Williams Hall is steeling itself for snow and earthquakes. And sometime soon the eagle will land at 10 Frye St.

August 20, 2010
2:48 pm

This fall, 23 Bates students will find themselves studying, socializing and sleeping inside a lesson in local architectural history. Acquired by Bates in summer 2009, the large brick house at 10 Frye St. is the latest addition to the college's stock of student residences. But it's one of the older buildings in the fleet, dating to 1873.

August 20, 2010
2:42 pm

A 19th-century house is Bates' newest student residence, the green carpet is rolled out at Garcelon Field and Campus Construction Update is beaming as the steelwork continues at Hedge and Roger Williams halls.

July 22, 2010
12:32 pm

Five days a week for three weeks in June and July, 100 student dancers spend hours perfecting their technique in studios, gymnasiums and classrooms around the Bates campus. These accomplished students come from the U.S. and abroad to attend the Young Dancers Workshop, part of the nationally acclaimed Bates Dance Festival.

July 15, 2010
3:24 pm

We all know that being able to deal effectively with boundary issues is key to a well-evolved personality. The Garcelon Field renovation passed such a developmental milestone July 8 with the completion of its concrete "anchor curb." Meanwhile, these days "Hedge Hall is really all about steel," says project manager Paul Farnsworth. (At last we're past the days when it was all about drainage.) Trucks bearing Hedge Hall's new steel skeleton should start to arrive Monday, July 19.