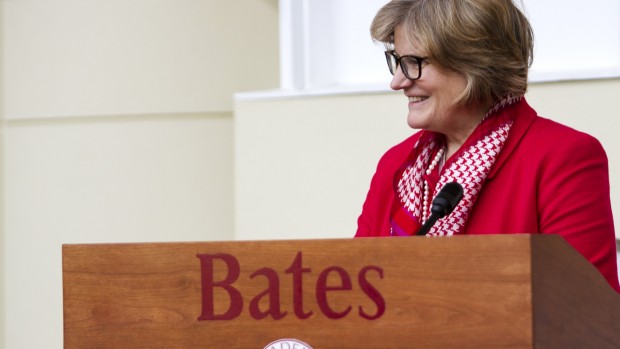 "We have ambitious goals for Bates, and I am inspired by this outpouring of support from the college community," said President Clayton Spencer.
Published on
Description

---

November 17, 2009
2:36 pm

More than 100 years later, the Yukon River still bears the evidence of the 1890s Klondike Gold Rush: abandoned cabins, mining equipment, even shoes still scattered along the way. Last summer, two Bates seniors set out to experience this historic episode first-hand. They retraced the fortune hunters' trail along the Yukon, from Lake Bennett in Canada across Alaska to the Bering Sea — a distance of nearly 2,000 miles, covered by foot and canoe.

November 11, 2009
11:34 am

In their first collaboration in several years, the Bates College Orchestra and the Bowdoin College Orchestra will join forces to perform music by Beethoven, Rossini, Schumann and others in concerts at 7:30 p.m. Saturday, Nov. 14, in the Olin Arts Center Concert Hall at Bates College, 75 Russell St.; and at 3 p.m. Sunday, Nov. 15, in the Studzinski Recital Hall at Bowdoin College, South Campus Drive, Brunswick.

October 26, 2009
1:28 pm

Five Bates College graduates are teaching and conducting research abroad this year thanks to scholarships from the Fulbright Program, funded by the U.S. Department of State.

October 21, 2009
4:12 pm

Barbara Byers '10, a resident of Elkins, W.V., offered a performance native to West Java, Indonesia as part of an Oct. 7 presentation on student experiences made possible by the Phillips Student Fellowship program at Bates. Also presenting was Chomba Kaluba '10, originally from Mpika, Zambia, and now a resident of Long Island, Maine.

November 19, 2008
11:10 am

Thomas Wenzel, Charles A. Dana Professor of Chemistry, received a nearly $100,000 grant from the National Science Foundation to create an entirely online undergraduate curriculum in analytical chemistry that's distinctive in two ways.

November 13, 2008
12:00 pm

One of the campus community's favorite gatherings, Bates' annual Harvest Meal is nearly upon us.
The buffet dinner starts at 4:30 p.m. Wednesday, Nov. 19, in Commons. Dessert and a "Trashion Fashion Show," a green-minded event where Bates people display apparel they have made from discarded materials, follows in the Gray Athletic Building.

May 4, 2004
11:05 am

On May 1, a hot and sunny Saturday, a bunch of Batesies and other volunteers gathered for National Rebuilding Day, an annual community undertaking to rehabilitate housing for the disadvantaged.