Archives for "About the Covers"
Insight and explanation of the front and back covers of Bates Magazine.
---
Friday
March 15, 2013 2:54 pm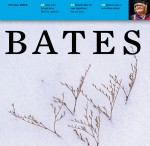 The cover of the Winter 2013 issue features a photo of grass tendrils poking out from the snow at Bates–Morse…
Tuesday
June 19, 2012 12:00 am
Clayton Spencer poses in Perry Atrium of Pettengill Hall.
Thursday
September 15, 2011 3:51 pm
The story behind the cover of Bates Magazine, Fall 2011 issue featuring the late Peter Gomes '65.