Archives for "From a Distance"
When you step back and take in a scene, do you know what you see?
---
Sunday
March 10, 2013 1:12 pm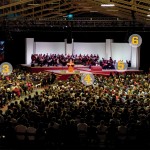 Bates photographer Mike Bradley captured President Spencer's inauguration from the office of tennis coach Paul Gastonguay '89.
Friday
June 15, 2012 12:00 am
Amateur pilot Sue Reedich P'13 sent a few photos of her campus flyover last fall. Here's what caught our eye.