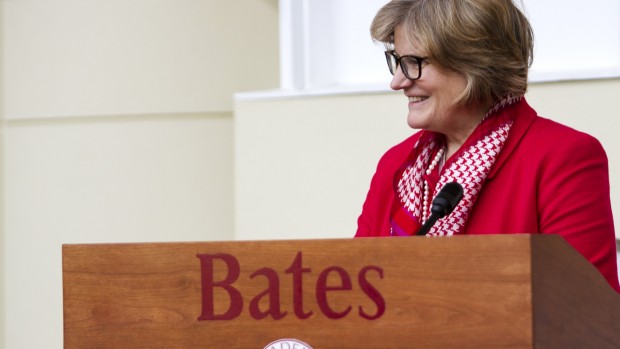 "We have ambitious goals for Bates, and I am inspired by this outpouring of support from the college community," said President Clayton Spencer.
Published on
Description

---

April 3, 2014
1:24 pm

Simone Schriger, a senior psychology major from Los Angeles, is one of two Bates seniors to be awarded a 2014 Watson Fellowship.

March 31, 2014
1:09 pm

The Bates College Museum of Art showcases posters from Poland promoting cultural events from the 1960s to the 2000s.

March 31, 2014
12:58 pm

The exhibition underscores a special, student-focused relationship between the Museum of Art and the Department of Art and Visual Culture.

March 7, 2014
2:28 pm

Bates presents the celebrated Spanish ensemble Cuarteto Quiroga with a program of Mozart, Bartok and Schoenberg on March 16.

March 7, 2014
2:23 pm

Scott Ordway leads the Bates College Orchestra in a program including a Mozart concerto for two pianos on March 15.

March 7, 2014
2:16 pm

The Silk Trio, a group of innovative string players specializing in the music of China, performs on March 14.

March 7, 2014
2:06 pm

Danú, an Irish sextet hailed for "astonishing versatility and exuberance," performs on March 13.

January 31, 2014
3:53 pm

Leyla McCalla, a singer-songwriter who has been likened to Billie Holiday, performs on Feb. 9.

January 31, 2014
3:34 pm

Pianist Frank Glazer, artist in residence at Bates, gives a special 99th-birthday concert featuring music of Bach, Mozart, Beethoven and…

January 31, 2014
3:23 pm

Soprano Karyn Levitt and pianist Eric Ostling perform songs by Hanns Eisler in translations by Eric Bentley on Feb. 7.