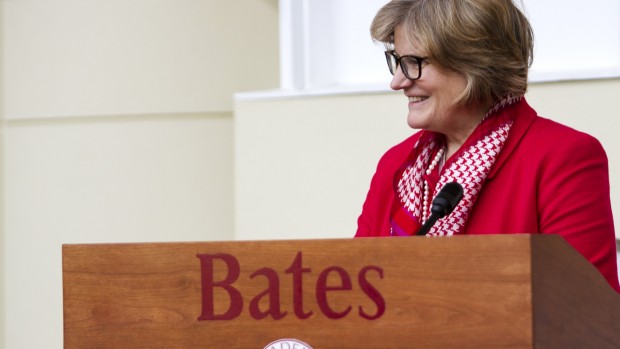 "We have ambitious goals for Bates, and I am inspired by this outpouring of support from the college community," said President Clayton Spencer.
Published on
Description

---

March 1, 2009
10:38 am

Svitlana Orekhova '09 of Donetskaya Oblast, Ukraine, poses for photographer Louisa Demmitt '00 during the annual International Dinner. For the dinner, students prepare dishes from their homelands, often from family recipes passed down through the years.

March 1, 2009
10:30 am

With 4:34 remaining in the first half of the men's basketball game vs. Bowdoin on Jan. 23, 2009, Neil Creahan '10 of Hingham, Mass., drives between Bowdoin defenders and dishes to Jimmy O'Keefe '10 of Lexington, Mass., for the layup.

March 1, 2009
10:23 am

Last winter, Judith Isaacson '65, LL.D. '94 got to hear her own words during a reading at the Lewiston Public Library by Katalin Vecsey, who read selections from Isaacson's Seed of Sarah, a memoir published in 1990 that recounted her Holocaust experiences at the Auschwitz-Birkenau and Hessisch Lichtenau concentration camps.

March 1, 2009
10:18 am

True, there's no longer a ski jump on Mount David, but it's still part of the Maine spirit to face winter with gusto (and insurance). Which is why a few Bates friends drove to Gilead, Maine, one winter day to create a road-gap jump.

February 17, 2009
5:26 pm

The team finished the regular season with a 62-51 loss at No. 18 nationally ranked Tufts University on Feb. 14 at Cousens Gymnasium.The Bobcats finish 16-8 overall and 5-4 in the conference, and earn the fourth seed in next weekend's NESCAC Championship. Bates will host fifth-seeded Trinity College (16-7, 4-5 NESCAC) at 3 p.m. on Saturday, Jan. 21, in the tournament quarterfinals.

February 17, 2009
5:08 pm

After defeating NESCAC rival Tufts 77-65 on Feb. 14, Bates finishes the regular season at 13-11 overall and 4-5 in conference play. The Bobcats have earned the sixth seed in the NESCAC Championship and will play at No. 3 seed Williams (16-7, 6-2) Saturday, Feb. 21, at 3 p.m. in the conference playoff quarterfinals.

February 16, 2009
4:38 pm

Ben Smeltzer '10, of the Bates Jazz Combo, rocks the Olin Arts Center Concert Hall as part of the evening program for Martin Luther King Jr.'s birthday. The combo's members participate in the college's jazz band.

February 16, 2009
4:22 pm

Bates Dining pizza chef Tina Vallerand performs her wizardry at the brick oven in the new Bates Dining Commons. A favorite of Bates students, Commons pizza is one of many popular choices that appears regularly on the Bates Dining menu.

February 16, 2009
3:49 pm

The Deansmen, one of Bates College's two all-male a cappella groups, peforms during the Fourth Annual Harward Center Community Partnerships Community Celebration at the Lewiston Public Library.

February 13, 2009
4:50 pm

Sam Evans-Brown '09 completes a breakout weekend with his second consecutive fifth-place finish in the Bates Winter Carnival. In March, Bates hosts the 2009 NCAA National Collegiate Men's and Women's Skiing Championships and partners with two of Maine's outstanding skiing venues: Sunday River in Bethel and Black Mountain in Rumford.