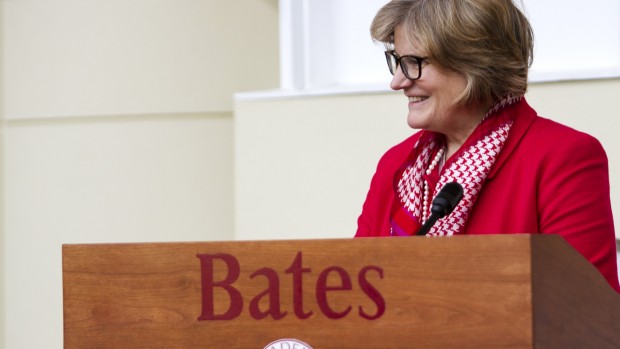 "We have ambitious goals for Bates, and I am inspired by this outpouring of support from the college community," said President Clayton Spencer.
Published on
Description

---

June 24, 2014
12:32 pm

At home, they're called leftovers. In the parlance of Bates Dining Services, they're called "extras." Either way, having food remaining…

June 17, 2014
9:00 am

May was filled with learning, laughing and a few goodbyes. Photographs by Phyllis Graber Jensen and Sarah Crosby.

May 29, 2014
11:23 am

Commencement is filled with sights, sounds and emotional moments that last a lifetime.

May 13, 2014
2:42 pm

Seven students create dishes from their own recipes, with the "theme ingredient" being food available in Commons.

May 7, 2014
10:30 pm

We have a new friend here on campus: Spring!

April 3, 2014
12:04 pm

Seeing Canada geese cruising over Garcelon Field tells us that spring is on the way.

April 2, 2014
10:53 am

Visitors come from near and far, and a least one watched from far, far away this year.

March 20, 2014
12:49 pm

Snow falling through the lights of Garcelon Field and onto the men's lacrosse game created these enchanting nighttime scenes.

March 3, 2014
8:31 am

Yes, February was another chilly month. But as George Harrison noted, here comes the sun. And we say it's all right. Photography by Sarah Crosby and Phyllis Graber Jensen.

February 4, 2014
10:49 am

Baby it's cold outside, but images from January capture the warm vibe of life on the Bates campus.