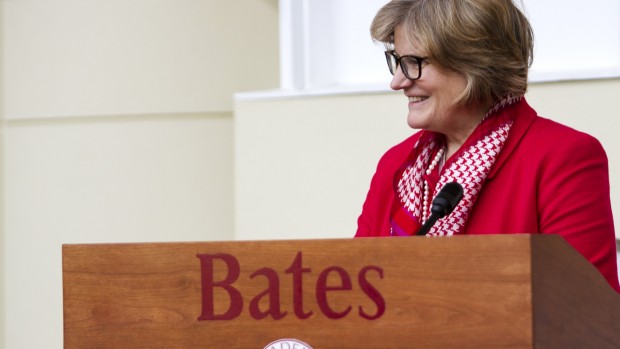 "We have ambitious goals for Bates, and I am inspired by this outpouring of support from the college community," said President Clayton Spencer.
Published on
Description

---

June 11, 2013
6:39 pm

Reunion Weekend was an opportune time to discover who coined the cheer "Great day to be a Bobcat."

May 29, 2013
12:49 pm

Multimedia coverage of Commencement Weekend 2013, including complete video of the graduation ceremony.

May 10, 2013
9:50 am

Choreographer and dancer Erin Gottwald '98 joins rapper, writer, actor and director Postell Pringle '98 to lead longstanding Short Term unit "Tour Teach Perform."

April 15, 2013
1:18 pm

Travis Jones '13, a double major in art and visual culture, and theater, with a minor in dance and a…

April 1, 2013
6:01 pm

Students in the junior-senior English seminar "Medieval London" assumed the identities of medieval Londoners at Mount David Summit. The Plague made a cameo appearance, too.

March 14, 2013
2:37 pm

For anthropologist Loring Danforth, helping students navigate their own cultural collisions is "important and interesting."

March 6, 2013
5:50 pm

Members of the Bates women's alpine ski team discuss coming together as Bobcat teammates in the world of competitive skiing.

February 21, 2013
9:00 am

Spencer's interview on student radio station WRBC-FM touched on a range of topics, including the obligation of a liberal arts college to help graduates get job and what responsible investing looks like.

February 11, 2013
3:00 pm

Wind and cold were distinctive features of the historic Feb. 8-9 snowstorm dubbed Nemo. Oh yeah, and the two feet of snow, too.

January 31, 2013
12:15 pm

The third annual Arts Crawl showcases the diversity of and passion for the arts at Bates.