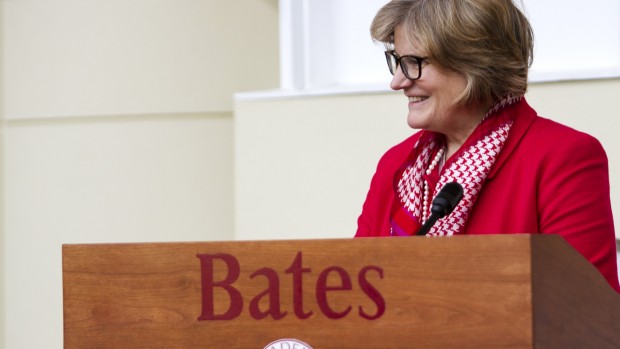 "We have ambitious goals for Bates, and I am inspired by this outpouring of support from the college community," said President Clayton Spencer.
Published on
Description

---

January 30, 2013
11:40 am

Several hundred Bates students braved extreme cold to leap into Lake Andrews on Jan. 18, continuing the annual tradition of…

January 24, 2013
3:11 pm

From the MLK Day Memorial Day Service sponsored by the Office of the Multifaith Chaplain to a keynote address on…

January 14, 2013
1:14 pm

Victoria Lowe '12 discusses her Short Term dance experience and her goal of advancing arts education in the schools.

January 11, 2013
3:00 pm

Student and alums team up to move the Bates Outing Club headquarters from Alumni Gym to Chase Hall.

December 18, 2012
11:25 am

See the Bates campus and its environs in a delightful, new way, from up on high by a multicopter.

December 10, 2012
10:23 am

Alex Bolden '15 prepares Bates artists for the annual Sankofa performance on Martin Luther King Jr. Day 2013.

December 10, 2012
9:33 am

Featuring compelling race-day footage, a video capturing the mindset of Bates' elite cross country runners.

December 6, 2012
4:24 pm

These first-graders at Equitas Academy in Los Angeles have made Bates their own.

December 3, 2012
12:00 pm

The competitiveness, camaraderie and mutual respect of the women's cross country team as it treks to Terre Haute, Ind., for the NCAA Division III Championship.

November 2, 2012
11:25 am

It's all here, from the fellowship of Bates' four presidents together to the Spencer family gathering for a photograph.