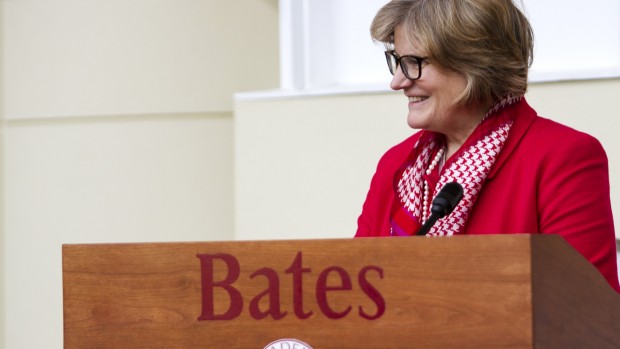 "We have ambitious goals for Bates, and I am inspired by this outpouring of support from the college community," said President Clayton Spencer.
Published on
Description

---

November 1, 2012
4:30 pm

Merrill Gym undergoes a transformation from sports venue to theatrical stage for the inauguration of Clayton Spencer.

October 26, 2012
8:00 pm

Watch the complete video of the inauguration of A. Clayton Spencer.

July 17, 2012
4:36 pm

Seniors speak to the power of 'Forever Forming, Transforming.'

April 12, 2012
4:06 pm

Katalin Vecsey enjoys figuring out characters in plays and shares a basic tenet with actors: "You must love your character."…

April 6, 2012
4:44 pm

Romina Istratii '12 will use the Watson Fellowship to research the dynamics of food security and gender bias in Africa.

March 30, 2012
1:00 pm

Rob Little '12 looks at a Sankofa production, an exploration of African diasporic experiences through performing arts.

March 15, 2012
6:21 pm

Annie Burns '12 talks about the joys and challenges of leading a varsity team in the company of two of her closest friends.

January 30, 2012
1:58 pm

Student arts showcase culminating with the variety show "Asia Night," a kaleidoscope of song and dance.

January 20, 2012
6:27 pm

Here are a few scenes from the 2012 edition of the annual Puddle Jump during Winter Carnival. Run by the…

December 7, 2011
4:56 pm

David Longdon '14 reflects on his summer as a leadership intern with Lots to Gardens, a youth-oriented, sustainable urban agriculture program in Lewiston.