By Doug Hubley. Published on April 3, 2012
---
Karen Nicoletti '12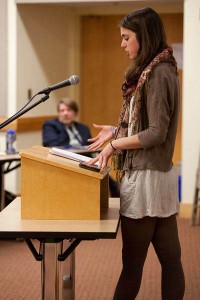 Karen Nicoletti '12 reads from her novel during a Mount David Summit creative writing presentation. Photograph by Rene Minnis.
---
Comments are closed.
News & Updates
Perspectives look at the past, present and future of Rwanda.
French Professor Alexandre Dauge-Roth traveled to Italy to take part in events commemorating the 20th anniversary of the genocide in Rwanda.
Contact Us