By Doug Hubley. Published on April 3, 2012
---
Karen Nicoletti '12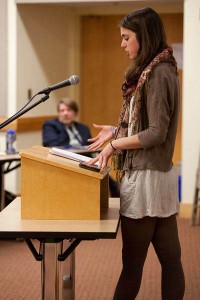 Karen Nicoletti '12 reads from her novel during a Mount David Summit creative writing presentation. Photograph by Rene Minnis.
---
Comments are closed.
---
News & Updates
"We have ambitious goals for Bates, and I am inspired by this outpouring of support from the college community," said President Clayton Spencer.
Brenna Callahan '15 inspires a love of reading in young students with Project Story Boost.
Coming up at the Bates Dance Festival are the popular Musicians' Concert and a pair of performances exploring changing times in South Africa and...
Contact Us