News Archives
Friday
May 8, 2015 9:08 am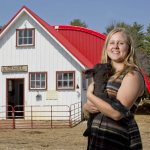 2015 Watson Fellow and Bates College senior Caroline Caldwell will undertake an exploration of sustainable ranching in Australia, Finland and Tristan da Cunha.
Thursday
February 5, 2009 2:38 pm
Blind from birth, Steve Hoad was raised by a mother who "understood that children were children," he says. "It was expected that I would do things children do." His outdoors experiences as a child and a desire to conserve land solidified Hoad's dream to one day live with his family on a farm.
Friday
January 9, 2009 11:47 am
Anna Skarstad '11 wants to be a farmer, but she's not willing to hoe that row until she understands why. And she knows that farming is hard. "It's deeper, too," she says. "It's a life."