News Archives
Thursday
October 17, 2013 12:00 pm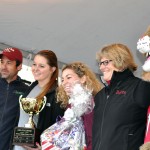 Hillary Throckmorton '15 marshals community participation in the CBB Dempsey Challenge to secure a Bates victory.
Monday
November 5, 2012 9:59 am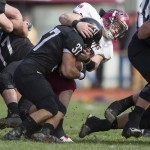 Game photographs from the Bobcats' CBB-clinching victory over Bowdoin.
Monday
September 14, 1998 1:35 pm
Guster, a percussion and guitar trio whose second CD "Goldfly" was named Independent Album of the Year at the 1998 Boston Music Awards, will perform at Bates College Saturday, Sept. 26, at 9 p.m. in the Clifton Daggett Gray Athletic Building. Tickets are $10 and may be purchased in the student activities offices at Bates, Bowdoin and Colby colleges. At Bates, call 207-786-6468 for tickets and more information.