Stories about "Crosstones"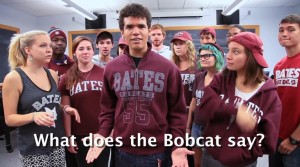 Monday, November 4, 2013 3:32 pm
Among the many Fox parody videos in circulation, the Bates version "might be the best one!"
Wednesday, March 3, 2010 3:36 pm
For three years, I have sung oohs, ahs and na-nas with The Crosstones. Having never been in an a cappella group before, I started out wary of singing in semi-circles and using bizarre syllables to recreate Billy Joel's greatest hits. But after spending my first year at Bates watching numerous a cappella performances in packed rooms all over campus, I was hooked.
Friday, October 10, 2008 12:00 pm
So last weekend the campus was flooded with parents and younger siblings checking out the Bates scene. My parents couldn't make the trip from Chicago this year, so Parents Weekend meant a few other things for me.