Stories about "Lou Harrison"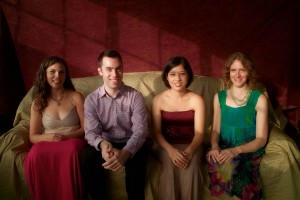 Monday, November 10, 2014 9:15 am
Known for its dedication to music by contemporary composers and from cultures underrepresented in mainstream repertory, the Momenta Quartet joins the Bates College Gamelan Ensemble on Nov. 14.
Tuesday, March 1, 2011 2:37 pm
The Bates College Gamelan Orchestra, a student ensemble that plays music of Indonesia, and special guest artists perform Lou Harrison's remarkable Double Concerto for Violin, Cello and Javanese Gamelan at 8 p.m. Saturday, March 12, in the Olin Arts Center Concert Hall, 75 Russell St. Titled Cross-Currents in Bronze, the orchestra's program of contemporary music for the gamelan also features performances by Balinese dancer Shoko Yamamuro and a world premiere of music by composer Peter Steele.