Stories about "Matt Tardy"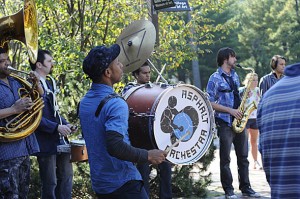 Monday, October 10, 2011 1:18 pm
On an October day that could have passed for August, Bates marked the 25th anniversary of its Olin Arts Center with a family arts festival. And while the attractions included a marching band, popcorn, balloon animals and juggling, the festivity was much more than just another day at the circus. The headliners, avant-garde marching band Asphalt Orchestra and the New Vaudeville act Two, managed both to honor the long traditions they represent and to show them in a new light.