News Archives
Friday
October 21, 2011 10:10 am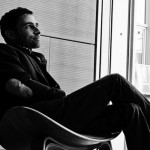 Scott Belsky, CEO of Behance, discusses the importance of reflective thought amidst the information onslaught.
Tuesday
May 13, 2008 10:08 am
Feb. 13, 1980, was Day 102 of the hostage crisis in Tehran, Iran. But for globetrotting freelance journalist William Worthy '42, it was just another day in just another post-revolution country.